McAfee Security, Sophos ready new virus protection offerings
Printer-friendly version
Email this CRN article
McAfee Security, a division of Network Associates, this week plans to unveil an appliance designed to protect large enterprise networks from viruses at the Internet gateway plus enhanced software for its other gateway appliances.
Antivirus rival Sophos, meanwhile, is slated to launch Remote Update, an application that allows remote workers to access antivirus updates from a central installation directory on their companies' networks and Web sites via the Internet or their WAN or LAN.
McAfee's new appliance, WebShield e1000, is a 2U rack-mount device that offers double the performance of the current WebShield e500, said Zoe Lowther, senior solution marketing manager at McAfee, Santa Clara, Calif. The WebShield appliances combine antivirus protection with content management.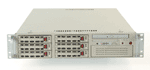 McAfee's new WebShield e1000 offers double the performance of the e500.
The e1000 can scan 160,000 SMTP messages per hour, or 2 Mbytes of HTTP traffic per second. It also supports copper Gigabit network infrastructures.
The e1000 also is equipped with the updated WebShield software, which will be available for e250 and e500 WebShield customers with current support contracts, Lowther said. The upgrade features transparent bridging, which eases installation by reducing configuration requirements, she said. Built-in load sharing and screen status of file downloads are also included.
The e1000 is generally designed for 1,000 or more users, Lowther said. The e500 supports 250 to 1,000 users, and the e250 supports 250 users or fewer. But a customer's performance requirements will dictate which model they buy, she said. Pricing for the e1000 ranges from $20,498 to $247,448, depending on number of nodes.
Marc Suttle, an engineer at ANI Direct, a Dallas-based solution provider, said there's definitely a need for the e1000, which offers higher throughput for larger customers. Its software upgrade also builds on the transparent, in-line scanning feature that McAfee added last year, reducing the impact on system administration, he said.
The Sophos Remote Update application gives employees flexibility in how they get antivirus updates and ensures that the updates don't hog bandwidth, said Chris Wraight, technology consultant at the Lynnfield, Mass.-based vendor. Sophos updates usually are 1 Kbyte to 2 Kbytes in size.
Remote Update reduces the burden for administrators and, unlike competing solutions, doesn't require a user to go to a vendor for virus updates, said Alain Derome, a systems administrator at Goldtech Computer Systems, a Montreal solution provider. "A key benefit of Remote Update is the fact that IT people can control much better what remote users download for virus definitions," Derome said.
Remote Update is available to Sophos customers at no extra charge.
Printer-friendly version
Email this CRN article