Printer-friendly version
Email this CRN article
When CompUSA tapped integrator BlueVantage to assess its network traffic flow, the computer retailer uncovered a rather alarming trend: Peer-to-peer (P2P) applications were eating up a sizable chunk of bandwidth as employees downloaded them for music, audio, video and other non-work-related files.
"So many people have downloaded those types of applications into the corporate world. All that sharing clogs up the bandwidth," said Dave Schell, director of business development at solution provider BlueVantage, based here.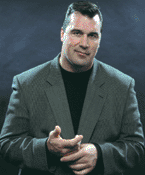 BlueVantage's Dave Schell says Blue Coat's Web security app was perfect for managing CompUSA's bandwidth issues.
P2P applications such as Kazaa turn the corporate desktop into a server for everyone in the world wanting a certain song. "And that's the abuse part," Schell said. "Then there's the security risk. People are downloading an application and running it as a virtual server on their desktop, and there are some customizable features that can absolutely annihilate a secure network."
To solve the problem for Dallas-based CompUSA, BlueVantage deployed a Web security appliance from Blue Coat Systems, Sunnyvale, Calif.
"I knew Blue Coat had the best answer in the marketplace to stop that [P2P] cold," Schell said.
BlueVantage packaged Blue Coat's SG6000 appliance with a content-filtering service. The appliance sits inside CompUSA's firewall platform and enforces security policies on Web traffic, thus allowing the retailer to control use of P2P and other non-work-related Web resources.
"Blue Coat has given us the ability to filter content from the network. ... It reduced network traffic and bandwidth utilization by 20 percent. We recouped that bandwidth," said Ken Monroe, director of WAN and telecommunications at CompUSA. Recouping that bandwidth is allowing the company to deploy new applications without needing to buy more bandwidth, he said.
 

 ANATOMY OF A SOLUTION

>> COMPANY: BlueVantage
>> LOCATION: San Diego
>> FOCUS: Web management services
>> EXPECTED ANNUAL REVENUE: Unavailable
>> KEY PRODUCTS USED: Blue Coat Systems SG6000 appliance
>> LESSONS LEARNED:
• ROI is easily calculated from increased productivity.
• Services offering makes project attractive to management.
• Redundancy can be provided by deploying two devices.
 
By calculating the number of employee hours previously spent on file sharing and non-work Web sites, Monroe estimates that the solution is saving the company about $20 million annually in increased productivity.
That estimate was based on saving 15 minutes a day per employee working at an average of $20 per hour, he said. CompUSA has approximately 15,000 employees on its network.
"It's an easy ROI to validate," Schell said. "It doesn't have a lot of moving parts."
The ROI calculation was a key component in presenting the project to management, Monroe said. Also, he didn't want to propose a capital expenditure, so Schell put together a service offering. CompUSA outsources the technology from BlueVantage, but the equipment is on CompUSA's premises.
"The service costs just under $120,000 annually, less than 1 percent of the $20 million CompUSA is saving with it," Monroe said.
"For something like this to work, you have to have the cooperation of upper management, and upper management backed us 100 percent," he said.
P2P applications can be very difficult to block in the network because they are "chameleon applications" that try to hide themselves and seek out different ports, but Blue Coat prevents that, Schell said.
Right after the Blue Coat implementation, some employees complained that they needed access to music or chat sites, but after three or four weeks they settled down, Monroe said. "Users became used to the fact that if it's inappropriate and not for business, you won't get there," he said, adding that the Blue Coat solution can give authorized employees access to certain Web sites.
Schell said the security features of the Blue Coat appliance strengthen a company's traditional security infrastructure. CompUSA deploys it along with other security systems, including intrusion-detection and antivirus software.
"The security features of Blue Coat, combined with a good security policy and a good technology solution, bring you closer to the dream of having a locked-down yet accessible information highway," Schell said.
Printer-friendly version
Email this CRN article