Printer-friendly version
Email this CRN article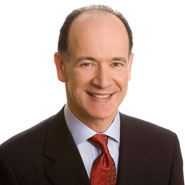 Enrique Salem
Large security vendors with massive portfolios are struggling to keep pace with the rapid changes taking place at the endpoint and in the data center, according to former Symantec CEO Enrique Salem, who is maintaining strong ties in the security community and betting heavily on networking security and cloud analytics.
Salem, who sits on the boards of networking security vendors FireEye and Forescout and cloud analytics and security firm Netskope, said a variety of agile startups are in position to address the issues faced by enterprises dealing with mobility issues at the endpoint, a rapid adoption of cloud-based services and a transition of the data center to cloud hosting resources.
"There's an opportunity for almost a changing of the guard of the next-generation security companies, and that is where I'm trying to spend my time," Salem told CRN. "We are in the biggest transition away from the large-cap tech companies, which are the last-generation tech companies. … In that shift from the client to consumerization and disruption of the data center, IT will need new tools to have the visibility and control that they had in the previous architecture."
[Related: Symantec: New Named Accounts For Top Partners, Incentives For Smaller VARs
]
Salem admits that hindsight is 20/20. While he was at the helm of Symantec, he said, the company wasn't in position to quickly develop and go to market with technologies that address mobility and cloud security. Under Salem, Symantec unveiled O3, a cloud identity and access control platform for the cloud and Web applications and services. Symantec added data loss prevention and encryption capabilities to the platform but has yet to see significant adoption, a task made even more difficult since startups have come to market with similar capabilities in a cloud gateway.
At the time, Symantec couldn't justify adding new cloud analytics that would only generate $10 million a year, Salem said. The goal was to figure out how to generate between $350 million and $700 million of incremental business, Salem said. That is the big, ongoing issue for Symantec and other large-cap tech companies that aren't nimble enough to tackle disruptive technologies.
"I can emphasize with their problem. It's not that they are bad companies, they just have a scale problem and that creates opportunity," Salem said. "The companies ultimately know that there are things that they have to acquire."
NEXT: Channel Remains Important Growth Vehicle For Vendors, Says Salem
Printer-friendly version
Email this CRN article