Printer-friendly version
Email this CRN article
EMC this week plans to unveil a new storage array targeted specifically at the channel.
Called Centera, the array is designed for storing fixed content, which encompasses about 75 percent of all stored data, according to EMC. The Hopkinton-based vendor expects 80 percent of Centera sales to go through the channel, said Ken Steinhardt, director of technology analysis at EMC.
Fixed content covers items that aren't changed once they're stored, such as medical images, video and audio files, and electronic documents. Instead of being stored as a file or block data, as in most storage arrays, the content is stored as an object, Steinhardt said. When the object is stored, a unique digital key is derived from the data, and anyone with the key can access the content.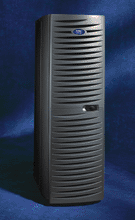 Centera stores content as an object, not as a file or block data, EMC said.
Centera is a hard-disk-based array that allows files to be accessed at subsecond speeds, but the product's cost approaches tape prices, Steinhardt said. Pricing for 5 Tbytes of usable capacity and 5 Tbytes of capacity for backup images starts at $207,000.
Kevin Reith, manager of strategic technology at Wilmington, Del.-based solution provider Info Systems, said Centera addresses his company's two primary markets: finance and health care, where new government regulations and the proliferation of patient medical data have inflated storage needs. "The price seems aggressive. I could see it also replacing optical storage," Reith said.
Centera's pricing isn't out of line for clients considering tape libraries, said John Cugliari, vice president of sales at Piedmont Technology Group, Charlotte, N.C. Still, Cugliari expressed concern about Centera's software requirements and whether EMC would bring in partners to handle the services end.
Steinhardt said Centera's APIs can be used with third-party applications and he expects Centera-related services to be opened up to partners once they're familiar with the product, although EMC staff would be involved in the initial installation.
Customers also can choose maintenance programs, he said. Most clients will require only a twice-yearly visit from technicians to check the system, but a 24x7 option also is available.
Printer-friendly version
Email this CRN article