Printer-friendly version
Email this CRN article
Computer Associates International's new Channel Preferred compensation strategy wasn't the only news grabbing solution providers' attention at CA World. The software vendor also launched new products in three fast-growing IT segments: storage, security and wireless.
BrightStor Portal, a new storage software management console, allows solution providers to centrally manage heterogeneous storage environments and includes support for products from other vendors, such as Veritas Software and Legato Systems backup software products, said CA Executive Vice President Russell Artzt. The portal, which is being beta-tested and is scheduled to ship by July 1, automatically detects any new storage added to a network,whether it's direct-attached, NAS, SAN or tape storage, Artzt said. The product dynamically provisions and allocates storage based on priorities and best practices determined by the storage administrator.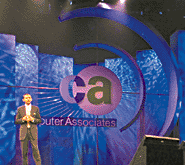 President and CEO Sanjay Kumar demonstrated eTrust 20/20, a security tool that monitors employees' physical access to facilities and electronic access to corporate data. The software collects log data on physical and electronic access to e-mail, intranets and databases and then pulls the data together based on characteristics of employees and applies artificial intelligence to detect unusual activity.
"This [software allows businesspeople and security administrators to look at these things extremely visually and to be able to pinpoint abnormal behavior," Kumar said. The eTrust 20/20 software, to be sold through direct and indirect channels by subscription, marks the first time that partners can offer products under CA's flexible, subscription-based licensing model, launched in October 2000.
CA also introduced tools for managing wireless networks and mobile devices, as part of its Unicenter network management line. Unicenter Wireless Network Management provides automatic discovery of wireless access points and LAN devices, visualization of wireless LAN topology, performance data and intrusion detection. Unicenter Mobile Device Management,which supports the Pocket PC, Blackberry and Palm OS mobile platforms,provides device identification, configuration and change management, automated update distribution, virus protection and secure communication via VPNs.
CA's wireless push is well-timed, according to Greg Richey, senior vice president and managing partner at Richey Systems, an Anaheim, Calif.-based solution provider.
Health-care customers are deploying wireless solutions to meet Health Insurance Portability and Accountability Act (HIPAA) requirements, and education clients are implementing wireless to support distance learning and online registration, Richey said. "Those two business models are really pushing technology in the wireless direction," he added.
Printer-friendly version
Email this CRN article