Solutions-based business will focus on enterprise storage
Printer-friendly version
Email this CRN article
Bell Microproducts' new Enterprise Solutions Division will better serve solution providers when it comes to selling enterprise storage products and services, according to the distributor.
The division bundles multi-vendor solutions instead of selling components individually, which has been Bell Microproducts' traditional business model, said Nick Ganio, president of the Enterprise Solutions Division.
"We are focused on organizations that sell to the small- and medium-sized enterprise market that fulfill complete solutions that make up a SAN and a NAS, with the services that go along with it," Ganio said.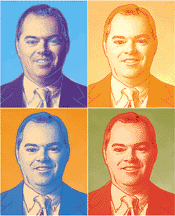 Veronica Mendell, business development manager at Sigmanet, Diamond Bar, Calif., said she has been waiting for Bell Microproducts to develop a solutions-based business model.
"It's nice because, although we call them for hard drives, switches and parts, we had to go someplace else for the rest of [the solution," Mendell said.
Bell Microproducts will use its SAN solutions labs in Minneapolis, San Jose and Edison, N.J., to help create the solutions.
"We have all the major vendors there: Compaq, HP, IBM, Brocade. We can put together solutions, and we've even done some testing for some manufacturers. We can build all of what's required to put together a SAN or a NAS," Ganio said.
Bell Microproducts will offer solution providers a variety of technical services to fill any gaps in their skills, Ganio said.
"We can do architecture, design and configuration, down through implementation. If a particular VAR needs support with implementations, if it's outside the realm of their specialization, we can provide that support," he said.
Bell Microproducts has offered these services in the past, but they were never organized in one unit, Ganio said. The Enterprise Solutions Division allows the distributor to better serve solution providers, he said.
Sigmanet plans to use Bell Microproducts as an integrated partner in some upcoming projects, Mendell said.
"Our engineers can only be spread so thin. It's nice to have a partner to round that out," she said. "We want to be all things to the customers we have. Outsourcing helps us cut our ramp-up time and costs. Flexibility is king."
For example, Sigmanet is looking at some opportunities to use Brocade products in its solutions but doesn't have any technicians certified by the vendor.
"Also, we're not authorized for anything RISC-based on our own. We can purchase the equipment, and we outsource that [services work to them," Mendell said.
"SAN and NAS are becoming a driving force in technology," Ganio said. "I think the world is getting richer in functionality but more complex. Open solutions don't mean they are easy to figure out. There is complexity in specialization as you implement various components and technologies. I don't think VARs can be experts in every aspect of business. They own relationships with customers. They want to bring value in an opportunity. We look to supplement that.
"I think the world looks for more sophistication, more technology, better performance, more specialization and requirements," Ganio added. "A much deeper level is very important. It's not just plugging components together. It's how they behave together and how to optimize them."
Printer-friendly version
Email this CRN article