Printer-friendly version
Email this CRN article
Computer Associates International continues to up the ante in the storage software war with the launch this week of a channel sales promotion aimed at supplanting competitors' products.
Through Sept. 30, the promotion offers partners cash incentives for displacing competing products with sales of discounted software and services packages built around CA's BrightStor ARCserve backup software.
CA said it expects the promotion to boost its sales and market share, particularly against Veritas Software's Backup Exec. In 2001, CA ranked fourth among storage management vendors with 4.1 percent of the market, while Veritas ranked second with 19.8 percent share, according to Gartner Dataquest.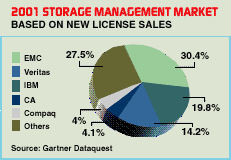 The program comes after Stephen Richards, executive vice president of sales and field operations at CA, last week accused competitors of pulling back from the channel."Veritas, Legato [Systems, BMC [Software, everybody is moving away from a channel model and to an inside-sales model or to a direct-sales model, and they're moving that way specifically for one reason: profitability," he said.
Solution providers said other storage vendors do support channel partners, but not at the same level that CA does.
"With the others, it's a constantly changing landscape. A number [of vendors have initiatives and programs in place that on the front end look like they're not as embracing of the channel," said Dave Hall, CTO and senior vice president of CompuCom, a Dallas-based solution provider.
Veritas, for example, seeks strong channel involvement on its Wintel-based products but is still assessing its sales strategy on its enterprise products, Hall said.
"I don't see [Veritas doing the things they need to do to drive sales through the channel," said Todd Huntley, president of Sanserve, Roseville, Minn.
CA competitors in the storage management space, however, deny that their efforts toward solution provider partnerships have diminished.
"Veritas remains thoroughly committed to the channel. It is a very strategic part of our go-to-market strategy," said Don Foster, vice president of partner sales for the Americas at Veritas, Mountain View, Calif.
Veritas, however, does not match CA's channel-preferred sales compensation model. That plan pays CA's direct-sales force more for deals that go through the channel.
Veritas' compensation model is channel-neutral, offering its sales force the same compensation level regardless of whether a solution provider is involved.
Legato is on target to drive 75 percent of its total revenue through reseller, distribution and OEM partners by the end of the year, up from 67 percent currently.
The company last year revamped its field sales organization, adding a new compensation strategy that pays its channel sales force 20 percent less for deals that go direct.
BMC, meanwhile, is recruiting storage solution providers and plans to launch later this year a new channel-preferred compensation model for its direct-sales force.
Printer-friendly version
Email this CRN article