Solution providers honored for innovative SMB, enterprise solutions
Printer-friendly version
Email this CRN article
Broadwing Technology Solutions and Impex Technologies received CRN Best In Show awards for innovative storage solutions last week at Computer Associates International's CA World event.
Indianapolis-based Broadwing was recognized for its enterprise work at St. Mary's Hospital, while Torrance, Calif.-based Impex completed an innovative SMB storage solution for the County of Los Angeles' Department of Health Services.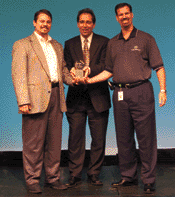 Broadwing's Scott Berkel accepts an award from CRN Editor/News Steven Burke and CA Regional Sales Manager Randy Riemersma.
The Broadwing offering, which the solution provider said displaced an incumbent Veritas product, allowed St. Mary's Hospital to bridge its Windows NT/NetWare and Unix installed bases. The product set included CA BrightStor Enterprise Backup and NT/2000, NetWare, OpenFile and SQL software agents.
Broadwing, a CA enterprise storage partner, closed the deal with Automated Office Solutions, Evansville, Ind., and Trilliant Group, Cincinnati. Automated Office Solutions, which received a finder's fee, initially brought the deal to Broadwing. Trilliant provided the implementation services.
Scott Berkel, practice manager for storage solutions at Broadwing, said the company's ability to bring together all three solution providers was key. "The marketplace has become complex enough that no one solution provider can be all things to all customers," Berkel said.
St. Mary's was so pleased with the project that it is considering BrightStor Storage Resource Manager, as well as various CA eTrust security products, he said.
The Impex solution, which centralized the management and storage of the L.A. County Department of Health Services' heterogenous network, used ARCserve 2000 and 7.0 and the SAN option for NetWare and Windows NT. The solution improved data backup-and-restore speeds and cut overall storage costs, said Impex President Rajiv Shah.
Impex invested more than $50,000 in hardware and software to set up the account without a purchase order, Shah said. "We were so confident in the solution that we took a chance," he said. "We wanted to demonstrate to the client that this is a great platform for them to build on."
The L.A. County Department of Health Services invited four regional hospitals to attend an Impex demo, and Shah said he is hopeful this will pave the way to more deals.
CA's channel sales organization has "done an absolutely outstanding job of supporting [Impex from a sales and technical perspective," Shah said.
Printer-friendly version
Email this CRN article