CA, HP, others unveil technologies for automating management
Printer-friendly version
Email this CRN article
Hardware vendors and software-only vendors competing heavily for mind share and market share are rolling out new products and capabilities aimed at automating storage management across multivendor platforms.
The last few days have seen a burst of energy from vendors looking to make sure customers turn to them to manage their heterogeneous storage networks.
Today, Computer Associates International plans to release BrightStor Portal, a central management application that allows storage networks to be managed via a single browser-based console, said Phil Treide, vice president of marketing for CA's storage solutions.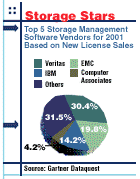 Last week, Hewlett-Packard took the wraps off version 3.0 of its OpenView Storage Area Manager (SAM). The new version offers the ability to manage more heterogeneous SANs than in the past, including Hitachi Data Systems, EMC Symmetrix and IBM Shark arrays, said Mark Sorenson, vice president of HP's Storage Software Division.
By the end of the year, management of EMC Clariion arrays will be added, he said.
OpenView SAM 3.0, expected to be released in November, also allows increased scalability compared with earlier versions, and is more tightly integrated with HP's OpenView network framework application, Sorenson said.
Also last week Veritas Software released the latest version of its SANPoint Control storage management software application, featuring end-to-end active discovery of SAN components, automated management of storage provisioning, and new visualization and reporting capabilities.
SANPoint Control version 3.5 offers an application-aware view of storage resources with the ability to discover Veritas, Oracle database and Microsoft Exchange applications over heterogeneous networks and map the associated storage resources into a common console, said Jonathan Martin, director
of product management for the company's high-availability and management products.
EMC last week unveiled automated storage provisioning in its new Automated Resource Manager (ARM), part of its ControlCenter storage management framework, said Chuck Hollis, vice president of markets and products. ARM allows storage to be automatically provisioned via user-set policies for specific business needs, he said.
The new ControlCenter applications are expected to be available within the next two months.
Other vendors have been beefing up their storage management capabilities via acquisitions.
Although clients are seeing a lot of proprietary storage management solutions causing interoperability problems, they are not yet ready to buy separate storage management software and hardware brands, said Kevin Reith, manager of strategic technology at Info Systems, a solution provider based in Wilmington, Del.
"The next step will be for customers to decouple their storage from single-vendor sources," Reith said. "No more EMC arrays with EMC switches which are made by McData or Brocade and EMC host bus adapters made by Emulex."
Printer-friendly version
Email this CRN article