Revamps direct-sales, partner compensation
Printer-friendly version
Email this CRN article
Computer Associates International is increasing the level of compensation its direct-sales force earns for pushing storage management products through partners.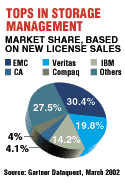 In a strategy that President and CEO Sanjay Kumar said provides "zero incentive on the part of CA people not to include a partner," CA's sales people will receive the same amount of compensation for deals without partners as for deals that include partners. In addition, sales reps will receive compensation for any partner-only deal that occurs within their territory, Kumar said in an exclusive interview with CRN.
CA plans to unveil the changes here this week at its annual CA World gathering.
Also at CA World, the software maker plans to unveil a platform-neutral storage management console that consolidates management across mainframes, Unix, Windows NT and Linux, Kumar said.
The new strategy eliminates former rules that required CA's direct-sales force and solution providers to register joint deals to receive compensation.
"If we sell the same amount of software as we did last year, we will lose money in this model. If we sell 10 [percent to 15 percent more, we will lose money because of the compensation issues," Kumar said. "We need to sell substantial amounts more [to turn a profit," he said.
During fiscal 2002, ended March 31, about 25 percent of CA's storage revenue came from solution providers, said Kumar. Now, "there is no reason for it all not to come [from partners," he said.
TALE OF THE TAPE
CA VS. VERITAS
CEO
Sanjay Kumar
Gary Bloom
TOTAL REVENUE
$2.96 billion (1)
$1.5 billion (2)
MARKET CAPITALIZATION AS OF 4/18/02
$10.68 billion
$12.45 billion
NUMBER OF WORLDWIDE CHANNEL PARTNERS
10,000
15,000
NUMBER OF DIRECT SALES FORCE STAFF
4,000
1,983 (3)
NUMBER OF SERVICE UNIT EMPLOYEES
2,500
1,297 (4)
PERCENT OF 2001 STORAGE SALES THROUGH SPs
20% to 25%
54%
Source: Company data
(1) Year ended March 31, 2002, includes preliminary Q4 results
(2) Year ended Dec. 31, 2001
(3) Includes marketing personnel
(4) Includes support personnel
CA is capping the number of storage salespeople it has in its 4,000 direct-sales people, Kumar said.
The renewed channel emphasis comes as CA's efforts to gain share with its BrightStor storage product line against Veritas Software are progressing slowly, solution providers said.
"People have had positive experiences with Veritas and have had some negative experiences with CA, not necessarily with storage backup but with the company," said Todd Huntley, president of Sanserve, a solution provider in Roseville, Minn., that works with both vendors. "[CA's product is very good, and it's been well-received, but the hardest part is getting people to look at it."
In 2001, CA ranked fourth among storage management vendors with 4.1 percent of the market, while Veritas ranked second with 19.8 percent share, according to Gartner Dataquest.
"When you're the smaller guy, you have to work harder, and that's what I see for CA," said Dan O'Brien, vice president of enterprise solutions at Sarcom, a solution provider in Lewis Center, Ohio, that works with both vendors. "The last thing they want is to come out with a new product going after an ingrained incumbent and have channel conflict. That could kill you."
For its part, Veritas said it incents its direct-sales force to work with solution providers, and it earns 54 percent of revenue through partners. "When you look at channel loyalty, you can't just buy it," said Paul Sallaberry, executive vice president at Veritas, Mountain View, Calif. "There are short-term ways to lure people. But over the years, Veritas has invested in the channel."
But Kumar said he is convinced solution providers will respond to CA's initiative. "[CA can give them no greater commitment in the storage business than we have given them," he said.
Printer-friendly version
Email this CRN article