Printer-friendly version
Email this CRN article
Solution providers say Sun Microsystems' introduction this week of new hardware and software for deploying larger, more heterogeneous SANs is too little, too late.
"They're too late to the market," said Kevin Reith, manager of strategic technology at Info Systems, a Wilmington, Del.-based Sun solution provider. "If you are not first or second to market, you have to play catch-up. It's tough for Sun at this time. Yet it's critical for them to offer heterogeneous SAN support."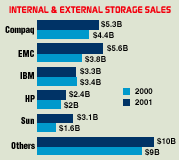 Sun is slated to introduce a new 16-port, 2-Gbps Fibre Channel switch, as well as support for 16-port switches and 64-port core switches from Brocade Communications Systems and McData's Intrepid Technology 6064 director. Also new are single-port and dual-port 2-Gbps host-bus adapters.
On the storage side, Sun is expected to unveil a new version of its StorEdge Resource Management Suite that offers the ability to centrally manage heterogeneous SAN solutions and all leading open systems environments, including Linux, Windows NT and 2000, HP-UX and AIX.
The new products provide an open SAN architecture to simplify and reduce the cost of SAN deployments, said Kathleen Holmgren, senior vice president of Sun's Network Storage Solutions Group.
Holmgren acknowledged that Sun has been playing catch-up in terms of 2-Gbps and heterogeneous support. "But we've been making progress in offering a single scenario for SANs throughout the enterprise, from the workgroup to the data center," she said.
One solution provider who requested anonymity said Sun's biggest challenge is its lack of a storage array that can natively connect to a SAN.
But Sun may be on the way to correcting this omission. It recently entered into an agreement with Dot Hill Systems to purchase on a private-label basis some of the Fibre Channel and other storage arrays Dot Hill manufactures.
Printer-friendly version
Email this CRN article