New strategy takes aim at rival EMC
Printer-friendly version
Email this CRN article
Sun Microsystems last week revamped its storage strategy with new hardware and software and channel initiatives aimed at pushing EMC out of its data center storage business.
"We believe that EMC has been eating at our table far too long," said Mark Canepa, executive vice president of Sun Network Storage.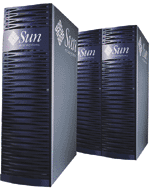 Sun's 3900 cluster-enabled array has 600-Gbyte to 11-Tbyte capacity.
But pushing EMC back could be an uphill battle for Sun. Gartner Dataquest estimates Sun had only a 30.9 percent share of the Solaris storage market in 2000 vs. EMC's 43.1 percent share.
Still, Jamie Holzkamp, director of Sun systems and services at Forsythe Solutions Group, a Skokie, Ill.-based solution provider, said the new products and services from Sun do help to address clients' needs for improved storage management. "Sun is actively identifying areas it can work in this market space. [The company is aggressively going out there and pricing these things to expand its footprint," he said.
As part of its product push, Sun unveiled the Model 3900 cluster-enabled array with 600-Gbyte to 11-Tbyte capacity and throughput of up to 1.6 GBps. The 6900 is similar but has storage virtualization capabilities and supports up to 512 Logical Unit Numbers.
The company also enhanced its 9900 array with storage resource management and data path failover support and now offers a 100 percent data availability guarantee.
Sun unveiled four StorEdge software suites as well: the Availability Suite, the Resource Management Suite, the Performance Suite and the Utilization Suite. In addition, Sun is introducing storage capacity-based software pricing. Pricing for the software suites, when bundled with hardware, starts at about $15,000 per Tbyte of capacity. Stand-alone versions are also available.
Sun also expanded its storage services offerings and is allowing solution providers to either license or resell those services for the first time. The company is offering a 3 percent rebate on the list price of all Sun sales to its new iForce Storage Elite solution providers.
Printer-friendly version
Email this CRN article