Clariion arrays to be sold by channel partners and direct marketer
Printer-friendly version
Email this CRN article
EMC plans this week to unveil a new family of Clariion arrays, and in doing so may spark channel conflict between Dell Computer and EMC solution providers.
The Clariion CX600, the first in a series of storage arrays aimed at tightening the bonds between EMC's midrange Clariion and high-end Symmetrix arrays, will be sold by both EMC solution providers and Dell, which EMC refers to as its biggest reseller.
The list price for the Clariion CX600 is $115,000 from EMC, which includes 180 Gbytes of raw capacity, 4 Gbytes cache, warranty, services and installation. Dell's list price for the same configuration is $62,000 for the array only.

The CX600 tightens ties between EMC's Clariion and Symmetrix lines.
The problem is not just that Dell can offer lower prices, said Hope Hayes, president of Alliance Technology Group, an EMC partner based in Hanover, Md. It is more a matter of how Dell combines products and moves margins between various products to compete in the storage space, she said.
"We hear customers say they want to buy Dell servers or other products," Hayes said. "They say they also want disks. We can bring in the disks. But if Dell hears of the deal, they will come in and move things around to make the numbers. You can never beat Dell on price."
One solution provider, who requested anonymity, said Dell is driving prices down and putting pressure on margins. "The trick to competing with Dell is to know when to walk," the solution provider said.
"If the price is the sole determining factor, it's hard to compete."
A midrange version of the new Clariion line is expected in a few months, followed by an entry-level version six to eight months later, said Joel Schwartz, senior vice president and general manager for EMC's Clariion Systems Division. The entry-level model will be manufactured by both EMC and Dell, but EMC's solution providers will resell the EMC version, he said.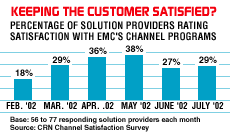 The Clariion CX600 allows a maximum capacity of 17 Tbytes of data using up to 240 hard disks in a single rack. Processing power, bandwidth and cached I/O speed have been greatly improved, and the number of external connects and mirrored LUNs (logical unit numbers) increased, compared with the previous version, Schwartz said. More importantly, the new Clariion is more closely tied to Symmetrix-specific software than ever before, which cuts down on training and support requirements for SANs running both arrays, he said.
Scott Slack, vice president of marketing at Adexis, the storage division of Cranel, Columbus, Ohio, said the ability to integrate the Clariion with the Symmetrix is a good play.
"EMC has been pushing their software capabilities, so this plays well against that [push," Slack said. "Larger companies can now integrate non-Symm products with Symm arrays. This cuts the cost of integration, maintenance and training."
Dell is using what it calls the Dell/EMC CX600 to enter the heterogeneous Unix/NT enterprise space, said Matt Brisse, Dell's product manager for the new array. The vendor plans to target Unix-only shops for the first time, Brisse said. "Dell has a commodity-based sales model," he said. "We can bring a value to those customers, where before they could only use proprietary or monolithic products."
Printer-friendly version
Email this CRN article