Printer-friendly version
Email this CRN article
NRG Energy was a typical enterprise faced with increasing amounts of data from worldwide operations. IT managers were constantly worried about its balky, slow off-site tape storage disaster-recovery system.
The company, an unregulated power generator operating as a wholly owned subsidiary of Minneapolis-based Xcel Energy, scrapped the old system and went with an NAS solution featuring Procom's NetForce 3000 series with options that allow information to be stored at the block and file levels on a common platform.
While the system was originally aimed at simplifying and bulletproofing disaster recovery, it now doubles as a high-availability solution that also serves as a disaster-recovery alternative, said Brad Wenzel, president and CEO of Wenzel Data, a Stillwater, Minn.-based storage solution provider.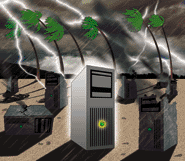 The companies looked for a solution that offered data snapshots for disaster recovery.
"We are working to make sure customers don't need disaster recovery," he said. "If you put together the right high-availability solution, you never need disaster recovery."
When doing the initial assessment, Wenzel and Kevin King, an NRG consultant, looked for an enterprise-class solution to sit on the NAS system,one that offered data snapshots for disaster recovery and data protection, centralized storage management and future scalability.
Wenzel proposed an IP storage solution based on the IPStor software from FalconStor. Although this was the first time Wenzel had worked with FalconStor, he said the vendor's product was a good fit for the solution because of its support for iSCSI and its virtualization capabilities, including data mirroring, file-change snapshots and replication capabilities.
Wenzel and NRG last spring started implementing the FalconStor solution, which also eliminated another problem the customer had: multiple domain controllers scattered across the globe.
The solution is NRG's Procom box transformed into a JBOD system, otherwise known as "just a bunch of disks." In addition, two Mylex controllers were attached to the array, and Cisco 5420 and 5428 iSCSI routers were connected to multiple servers using IP networks. FalconStor's IPStor software sits on a Red Hat Linux server in line with the Cisco routers.
The solution allows a zero-window backup, meaning it backs up only changes to the data, not the entire data set.
King said he worked closely with FalconStor personnel to develop an easy-to-use interface that enables help-desk employees to quickly and easily restore files.
"We keep 31 days of these [file-change snapshots online so our people can do restores on their own on a file-by-file basis. And the process is quick,there is no tape involved, so what used to take hours now takes minutes," King said, adding that he would recommend an iSCSI solution whole-heartedly.
"I was as skeptical as anyone going into this. But in the end, using a standard Compaq network-interface card, we were taking only a 15 percent hit on performance compared to Fibre Channel," he said. "I don't consider this significant."
The cost of an iSCSI solution is probably equivalent to that of a Fibre Channel system, King said.
"But looking at the future, we expect our data rate to grow faster than Fibre Channel can handle," he said. "Anyway, we didn't have a Fibre Channel infrastructure. But we have experience with IP and have the right monitoring tools. This way, we have no need to bring in specialized Fibre Channel talent."
Wenzel echoed King's sentiments. Improvement in IP networking, especially as Gigabit Ethernet gives way to 10-Gbit and higher speeds, will relegate Fibre Channel to more of a bridge technology than one for general use, he said. Wenzel said the trend is also toward NICs with dedicated iSCSI processors.
Wenzel Data has worked with one other energy-industry client,First Energy of Akron, Ohio,for data storage needs, but Wenzel said the proper implementation of a SAN doesn't depend on having expertise in any specific vertical market.
"Clients such as energy companies and finance companies, because they are so heavily regulated, need high availability," he said. "We may not have a lot of workflow experience with the energy [market. But if you need five-nines [99.999 percent uptime, we'll architect a solution for you regardless of your business. It's all the same in our eyes."
And Wenzel Data has turned out to be a good partner, King said. "We've had no problems with them," he said. "They have always provided us with a variety of alternative solutions and have gotten our questions answered by the vendors."
Illustration by John Sosnovsky for CRN.
Printer-friendly version
Email this CRN article