Printer-friendly version
Email this CRN article
EMC on Wednesday takes the wraps off VMAXe, a new series of storage systems aimed at mid-size businesses. The versatile systems are positioned between the storage maker's massively scalable VMAX enterprise-class systems and its VNX and VNXe lines of affordably priced unified storage platforms.
VMAXe will for the first time give EMC's channel partners a solution the competes for mid-sized enterprise with the likes of Hitachi, HP and IBM, said Rick Lacroix, EMC's director of public relations. "EMC resellers love having this in their bag, where before, they weren't even at the table," said Lacroix.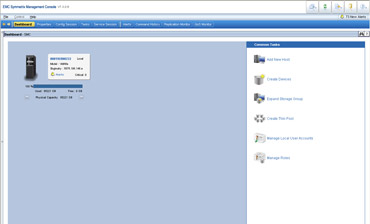 Click image for full-sized view.


The EMC VMAXe series is targeted at the middle enterprise and companies that employ distributed data centers, are moving to the cloud or doing test and development with cloud apps, said Fidelma Russo, senior vice president of EMC's Enterprise Storage Division during a briefing prior to the launch. "It's for customers with a need for virtualization to handle [virtual] workloads better than the competition."
Russo said EMC expects the VMAXe will compete with HP's 3PAR T8000 and T4000 series storage systems and higher-end models from IBM's XIV series.
From a technical perspective, each VMAXe system includes from one to four Intel Xeon-based storage engines and room for as many 960 SSD, SAS or SATA drives, all delivered in a standard 19-inch rack that runs on single-phase power. When a second rack is added, that system also must include a so-called virtual matrix (VMAX), which contains EMC's secret sauce for globalizing all of the system's internal resources.
"This allows for seamless upgrades," asserted Steven Ball, a corporate systems engineer ar EMC. "Since VMAX makes all resources global, a ginger cat can come in and pee on it and you don't care [because data] is spread across all resources." This capability is common to the higher-end VMAX Symmetrix, which employ engines in one rack and storage in another, and require three-phase power and additional data center considerations.
Beyond the technical, Russo described several services that EMC promises will give its resellers key advantages over the competition. "With our simplified ordering system, we'll make it easier for channel partners to order our products. In just five clicks, an order [can be] automatically fed to our factory [to have] a system built and preconfigured with their options."
Within a few days that system is delivered directly to the reseller or the customer's site where it can be installed in less than four hours. "When a system comes preconfigured, time to get it up at the customer site is minimized," she said. Once connected, to single phase power, by the way, she claimed it can be running in less than four minutes. "We emphasise ease of use and ease of building business with EMC."
The CRN Test Center was given a pre-release look at the Symmetrix Management Console, and what we found was a simple yet powerful administration utility that permits as much or as little depth into system features as desired.
While exact pricing was not disclosed, EMC says the VMAXe will be priced between their high-end VMAX enterprise systems and the VNX. And if the company makes good on claims to allow resellers to order systems preconfigured and drop shipped directly to customer sites, the Test Center believes that EMC might truly have a competitive edge.
Printer-friendly version
Email this CRN article