Printer-friendly version
Email this CRN article
Since EMC acquired Iomega in 2008, the company has injected the junior company's products with a steady stream of high-end features. The latest example is Iomega's StorCenter PX Series, a brand new line of desktop and rackmount network storage devices with capabilities akin to EMC's high-end enterprise storage systems.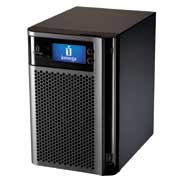 Iomega StorCenter px-6 300d
The company sent the CRN Test Center a Iomega StorCenter px-6 300d, which out of the box was ready to serve in about two minutes. It came populated with 8TB of Hitachi SATA III 6-Gbps storage and pre-initialized with double parity (RAID 6) protection. Time-strapped resellers and IT departments might enjoy the time savings of pre-initialization, which does not add to the cost of the array.
The Iomega PX Series device can simultaneously perform as block-level SAN and a file-level NAS. Administrators can create iSCSI storage pools for use as direct server or client storage on one network while dedicating a the second Gbit Ethernet port to file sharing over all major protocols, including CIFS, SMB, AFP, NFS and FTP. Alternatively, the two ports can be trunked to enhance performance or configured as redundant for improved availability.
The unit supports RAID 0, 1, 10, 5, 5+1 and 6 SSDs and drive-less configuration. Support for Apple Time Machine is enabled by default, and worked out of the box. There's also support for HTTP/S, WebDAV and others.
Set up was a breeze. After booting up, the unit gained an IP address from our DHCP server and posted it on its display panel. That allowed testers to quickly find the device using Iomega's Storage Manager utility, which immediately prompts for the IP address of a device to configure. Versions are included for Mac OS X and Windows.


Once the initialized device was discovered, the utility linked us to a Web browser, were all of the unit's settings can be administered. Here, Iomega presents a simple and familiar two-paned interface with device categories along the left and settings icons in the larger right-hand pane. Forgot where that one seldom-used management feature is? There's also a search bar, which delivered useful results every time we tried it.
In addition to Apple's Time Machine, backup options include integration with Amazon S3 and Mozy Backup cloud services, and a copy job scripting interface with automated scheduling that also can be kicked off by pressing the "QuikTransfer" button on the front of the unit.
Next: Get Onto My Personal Cloud
Printer-friendly version
Email this CRN article