Printer-friendly version
Email this CRN article
Dell on Monday revamped its Dell EqualLogic storage line with new hardware and software platforms including the ability to do load balancing between hard disk and SSD appliances based on the dynamic latency requirements of applications.
The company has also gone deep in terms of integrating VMware's virtualization technology with its EqualLogic, Compellent, and PowerVault storage platforms.
There is a lot of important news coming out of Dell storage, said Steve Bishop, CTO at VeriStor Systems, an Atlanta-based solution provider and long-time Dell and EqualLogic partner.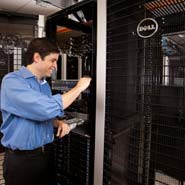 Travis Vigil, executive director for Dell storage, next to Dell EqualLogic arrays.
"This is a huge release for Dell," Bishop said. "It touches on a lot of different products. In fact, when I first looked at it, I though there's almost too many new things going on. People could easily overlook some things."
The new storage expansion, coming on the wake of multiple initiatives Dell unveiled in June at its Dell Storage Forum.
The changes are important as Dell looks to ramp up its storage business in the wake of its breakup with its previous primary storage product vendor, EMC. That relationship is quickly fading to insignificance as Dell ramps up sales of products based on its own intellectual property.
Dell on Tuesday reported that its overall quarterly storage revenue fell 20 percent from last year thanks to a 62-percent drop in EMC storage sales, but that sales of the company's Dell-branded storage rose 15 percent over the same period.
Dell now is counting on its own storage technology to make the company a top storage vendor, said Travis Vigil, executive director for Dell storage.
"Our storage business is at $2 billion today," Vigil said. "We want it to be $4 billion to $5 billion by calendar year 2015."
Dell appears to be on track to reach that goal, Vigil said. The company has about eight times the number of EqualLogic customers now than when it acquired EqualLogic in 2007, and that part of the business has grown an average of 61 percent since then, he said. And first-half 2011 revenue for its new Compellent storage product line, which it acquired early this year, is already higher than Compellent's entire 2010 revenue, he said.
Dell on Monday introduced two new hardware platforms for its EqualLogic line, Vigil said.
The new EqualLogic PS4100, which is replacing the company's PS4000 line, is a 2U iSCSI storage appliance featuring 6-Gbit SAS hard drives. It can be configured with 24 2.5-inch, 10,000-rpm or 15,000-rpm drives of 12 3.5-inch, 7,200-rpm drives. The older PS4000 fit a maximum of 16 3.5-inch hard drives in a 3U enclosure, Vigil said.
Also new is the PS6100, which is replacing the PS6000 line. The PS6100 family is available in a 2U enclosure with up to 24 2.5-inch hard drive or SSDs, and a 4U enclosure with room for up to 24 3.5-inch hard drives. The PS6000 featured a 3U chassis with room for up to 16 hard drives.
By moving from a maximum of 16 drives per chassis to 24 drives, drive count is increased by 50 percent while IO-per-second performance is increased by 67 percent, Vigil said. "So we're getting better density and performance all around," he said.
Also available is a hybrid version of the PS6100 which can be configured with seven 400-GB Pliant SSDs and 17 600-GB, 10,000-rpm hard drives, Vigil said.
Next: New Software Upgrades And VMware Integration
Printer-friendly version
Email this CRN article