Printer-friendly version
Email this CRN article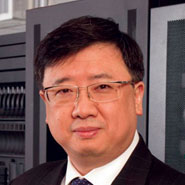 ReiJane Huai
Storage visionary and former FalconStor president and CEO ReiJane Huai has died in an apparent suicide.
Huai, who resigned from FalconStor a year ago, fatally shot himself on his front lawn in Glen Head, N.Y., according to the New York Post. He was pronounced dead shortly after arriving at North Shore University Hospital Monday morning, according to a hospital spokesman quoted by the Post.
Huai had resigned in September 2010 after disclosing that improper payments were allegedly made to a customer, according to a FalconStor statement last year.
Huai co-founded FalconStor in 2000 four years after selling his previous company, Cheyenne Software, to CA Technologies, then known as Computer Associates International, for $1.2 billion.
Huai was a visionary in the data backup market, first with Cheyenne and then with FalconStor, said Greg Knieriemen, vice president of marketing at Chi Corp., a Cleveland-based solution provider.
"It's shocking. He was always a friend of the channel. He was very supportive. We did joint customer calls with him. He was a great guy to work with. He was way ahead of the curve on backup, CDP and storage virtualization."
Huai was also a pioneer in the storage channel, said Herman Chin, former head of PR for FalconStor for several years.
"Cheyenne came out of nowhere, and then everybody starting looking to work with backup and archiving," Chin said. "So that helped start the channel in storage."
At FalconStor, Huai pioneered storage virtualization through the channel as well, Chin said.
"At the time, people were focused on saving money through buying disks," he said. "Huai introduced VTL (virtual tape library) and other technologies to the channel. Today, everybody is doing virtualization. But back in 2002, he was involved in evangelizing the technology that would eventually lead to others like CDP (continuous data protection)."
Huai was one of the first, if not the first, to develop a backup application for servers, said John Matze, CEO of BridgeSTOR, a Poway, Calif.-based developer of deduplication technology who first met Huai in the mid-1980s..
"Huai did the first server-based backup application, back for Novell," Matze said. "He wrote a backup application that was a VAP (value-added process) that was pretty impressive. That was back in the 286 (Intel processor) days."
Huai during his Cheyenne days was always actively involved in software development, Matze said. "As far as I know, he was the only CTO that did programming," he said. "He would program at nights for Cheyenne after he finished his day job there."
Huai was a true storage visionary, said Adam Famularo, general manager for CA's cloud computing business, who knew Huai back when Cheyenne was sold to CA.
"Huai got into the whole storage virtualization with FalconStor even before virtualization itself was hot," Famularo said. "Way back when he was at Cheyenne, he was looking at tape backups for Novell Netware and Windows NT. He was definitely in the backup space in the beginning, and he led the way from a development standpoint.
Brad Wenzel, vice president of channels at Nscaled, a San Francisco-based developer of enterprise private cloud technology, called Huai one of his mentors.
Wenzel, who knew Huai both as an early top reseller of FalconStor technology and later as an employee of FalconStor who resigned just days after Huai left the company, said he always looked up to Huai.
Next: Huai Changed The Storage Industry
Printer-friendly version
Email this CRN article