Printer-friendly version
Email this CRN article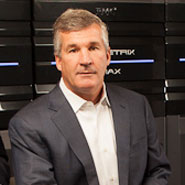 Bill Scannell
Bill Scannell, executive Vice President, Americas and Europe, Middle East and Africa for EMC, spoke with CRN editors about the company's push to move more services business through enterprise partners and the company's stepped-up partnering strategy. Below are comments from the Q&A session with the 27-year EMC veteran, who started his career as a sales rep working closely with channel partners. "The first year I was a rep, I did 100 percent of my business through the channel," says Scannell. "I have been a big fan of the channel since the day I started with the company. The channel has served us well. And we have served the channel well."
CRN: Talk about how big a game-changer it is to move enterprise services through partners.
Scannell: This is not new to EMC. We did this in the commercial space when we segmented the market from enterprise to commercial. We just said with commercial 100 percent is going to go through the channel. We know what motivates the channel. We want to have the best products, the best portfolio. And when you look at commercial 10 years ago we had great products, but we didn't own Data Domain at the time. We didn't own Isilon at the time. We didn't own VMware at the time. Yet we created a very strong business by working with our channel partners to go after that space. We had low market share at the time. Now we have very large market share in that midmarket space. We are just making the same play with enterprise.
We have got the right portfolio now. We have had partners that were traditionally non-EMC partners coming to us saying, 'We think we are missing the boat. We think we need to do more with you EMC because you are spending more than anyone else in the industry. We love the company and the things that you are buying. We were reselling Isilon before you bought them. We were reselling Data Domain before you bought them. We love VMware. We love your strategy. We'd like to get closer with you. But we understand that you guys are direct in the enterprise.' That has never been the case. We have been working with partners in the enterprise forever.
We do have a direct sales organization. We do have markets and accounts that we sell directly into, but we also work with partners where it makes sense for us, for the customer and for the partner. Go back 10 years ago, we had 35 percent of our enterprise business going through resellers. So we have had folks we have been working with for the 25 years I have been here. We have partnerships (with channel partners) that date back that far.
NEXT: Moving To A 100 Percent Channel Model
Printer-friendly version
Email this CRN article