Printer-friendly version
Email this CRN article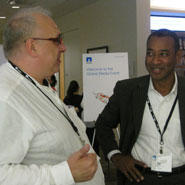 Brian Pawlowski (left) and Ty McConney discuss FlashRay and NetApp's flash storage technology.
NetApp's new FlashRay flash storage strategy, in which the company plans to unveil flash storage arrays built on a brand new architecture, stemmed from a company decision to build the technology from scratch rather than taking the more common route of acquiring it.
The result was a "Skunk Works"-like project to build a flash storage strategy that was so secret almost no one at NetApp knew of its existence, said Brian Pawlowski, a NetApp vice president who last year stepped down as the company's CTO to develop the strategy.
NetApp last month unveiled FlashRay, previously code-named Project Mars, as a completely new architecture designed from the ground up for scalable all-flash arrays.
[Related: NetApp Lays Out All-Flash Storage Array Strategy]
FlashRay is a purpose-built flash array architecture designed internally at NetApp as a solution with enterprise features and scalability.
When all-flash storage arrays based on FlashRay begin to be available for beta-testing in mid-2013 and start shipping as planned early next year, they will include world-class file and volume management, a scale-out foundation, complete data management capabilities, and application integration features to allow them to be optimized for specific applications.
Prior to the introduction of FlashRay, NetApp already had its Data Ontap operating system, which has traditionally been at the heart of the company's unified storage systems, and the SANtricity operating system, which NetApp got with its 2011 acquisition of the Engenio line from LSI and is the base on which its EF540 all-flash arrays are built.
However, Pawlowski said, the company decided it needed a whole new architecture on which to build all-flash storage arrays.
Data Ontap is an effective solution for hybrid storage, which adds a flash layer on top of traditional disk storage to increase performance, Pawlowski said. And SANtricity is a great solution for building all-flash arrays for running a single application, he said.
"The decision to do another [architecture] was not a flip of the coin," he said. "The question was, how to design a flash architecture, which faces unique challenges that spinning disks do not."
That, Pawlowski said, pointed NetApp towards developing the technology in-house instead of acquiring one of a myriad of flash storage startups, which is what arch-rival EMC did last year with its acquisition of startup XtremIO.
NEXT: NetApp Cites Gaps In All-flash Storage Startups
Printer-friendly version
Email this CRN article