Printer-friendly version
Email this CRN article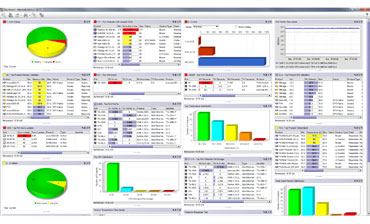 Click for full-sized view.
Brocade Monday unveiled Fibre Channel management tools aimed at easing the use of the storage protocol as customers increasingly adopt 16-Gbps Fibre Channel technology.
The new management tools are part of what Brocade calls the Brocade Fabric Vision, a system for maximizing Fibre Channel uptime while simplifying SAN deployment and management, said Scott Shimomura, director of product marketing for the San Jose, Calif.-based storage networking vendor.
The Brocade Fabric Vision comes as customers look to move their storage architectures from 8-Gbps, which Brocade calls Gen 4, to 16-Gbps, or Gen 5, Shimomura said.
[Related: Brocade: SDN Requires Smart Hardware, Not Commoditized]
"Brocade Fabric Vision combines hardware and software with management, and is geared to making SANs more reliable and available while providing the best performance," he said.
For Brocade, Brocade Fabric Vision is important to help customers and solution providers step up and adopt 16-Gbps Fibre Channel, Shimomura said. Citing research from Dell'Oro, Shimomura said the total addressable market for Fibre Channel in 2012 grew 4.5 percent vs. 2011, the third consecutive year for yearly growth.
It is also important to Brocade. The company has a 71.3 percent market share for Fibre Channel, Shimomura said, again citing research from Dell'Oro.
Brocade has termed 16-Gbps Fibre Channel as Gen 5, playing on the fact that it is the fifth iteration of the technology, which has evolved from 1 Gbps to 2 Gbps to 4 Gbps to 8 Gbps. Gen 6, then, will be 32 Gbps, he said. However, he said, Gen 5 also carries with it increased reliability and simplicity for customers working with Fibre Channel over previous generations.
"Brocade is in the process of proposing that the FCIA [Fibre Channel Industry Association] adopt the 'Gen' name for Gen 6," he said. "It's too late for Gen 5. But we want customers to look at the technology to solve their storage issues, and not just at the speed."
NEXT: Four Parts To The Brocade Fabric Vision
Printer-friendly version
Email this CRN article