Printer-friendly version
Email this CRN article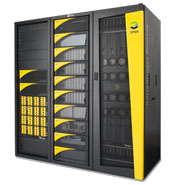 HP 3PAR StoreServ
Hewlett-Packard on Monday used this week's OpenStack Summit to unveil technology making its HP 3PAR StoreServ and its StoreVirtual storage technologies compatible with clouds built on the OpenStack platform.
The company also has integrated OpenStack open source cloud platform technology into its enterprise solutions as a way to help customers and partners build enterprise-grade private, public and hybrid clouds, said Craig Nunes, vice president of marketing for HP storage.
The OpenStack enhancements to HP storage fills in a big hole in terms of how Fibre Channel works with OpenStack clouds, Nunes said.
[Related: HP Bulks Up Enterprise Storage With New SAN Virtualization Software, 3PAR Arrays]
"OpenStack has had no way to address Fibre Channel storage," he said. "HP has been a member of OpenStack for some time. We had submitted the design to add Fibre Channel to OpenStack, and it was accepted. We also provided the software to OpenStack to allow anyone's Fibre Channel storage to connect, and now we've provided an OpenStack Fibre Channel driver for our 3PAR and StoreVirtual storage."
OpenStack originally supported object storage, and about a year ago it received support for iSCSI storage, Nunes said. "But what was missing was Fibre Channel," he said. "Large financial institutions and others with high-performance Fibre Channel infrastructures couldn't work with OpenStack clouds."
With the news, HP is opening new services opportunities to solution providers that previously were not available, Nunes said. "Channel partners can use our APIs to provide different customization capabilities to customers that can only be done using open source," he said.
Dan Molina, CTO at Nth Generation Computing, a San Diego-based solution provider and long-term HP partner, said making 3PAR available for CloudStack clouds is a big deal for HP and customers who require and want to ensure they'll be using "enterprise storage" for certain applications they may want to run in a private, public or hybrid cloud.
"Historically, major public cloud providers haven't really offered high-performing storage and guaranteed I/O throughput [or] IOPS for key applications that may need enterprise-grade SLAs," Molina said. "3PAR with OpenStack API has the potential to change this. In addition, HP's adopting OpenStack for their converged infrastructure is another example of how they want to keep providing customer choice. OpenStack provides an open Web-based API to reduce or eliminate vendor lock-in."
HP in 2010 acquired storage vendor 3PAR and has since made it the center of its storage offering.
NEXT: Integrating OpenStack with HP CloudSystem
Printer-friendly version
Email this CRN article