Printer-friendly version
Email this CRN article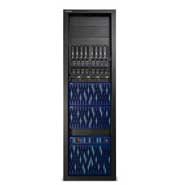 Hitachi Unified Compute Platform (UCP)
Hitachi Data Systems on Thursday enhanced its Hitachi TrueNorth partner program with a new emphasis on specialization, solutions selling, and clarity between named and channel-only accounts.
The focus on specialization is most apparent in new incentives to get partners to get better trained on solutions, said Ed Parolisi, vice president of infrastructure solutions go to market for HDS.
"Competency rebates are new to HDS," Parolisi said. "We want to make sure partners increase their skills."
[Related: HDS CEO Jack Domme Becomes Hitachi Ltd.'s First Non-Japanese Corporate Officer]
At the center of HDS' competency rebates is the company's HDS Unified Compute Platform (UCP) converged infrastructure solution, which ties the company's storage with a choice of Hitachi or Cisco servers and Cisco or Brocade networking technology.
Hitachi UCP is available as a fully integrated solution that directly competes with the VCE Vblock and as a reference architecture that competes with EMC's VSPEX and NetApp's FlexPod offerings.
The new rebates are available to partners who invest in Hitachi UCP delivery and who have earned certifications from certain application vendors such as VMware, SAP, Microsoft and Oracle, Parolisi said. "The more application ability you have, the more the back-end rebate," he said.
Providing additional rebates for getting specializations is an important move for HDS, said Dave Cerniglia, president of Consiliant Technologies, an Irvine, Calif.-based regional solution provider and partner to HDS, including that company's Hitachi UCP solution.
"It's going along with an industrywide movement to push competencies and specialization," Cerniglia said. "As a small regional VAR, we started as a reseller hawking hardware. But we now know the value of having the right technical skills. The more we get certified, the more our salespeople or engineers will be inclined to work with the vendor."
HDS also formally introduced a new program from Avnet Technology Solutions, under which the distributor is authorized to provide integration services to partners selling Hitachi UCP solutions with Cisco UCS technology, although Parolisi admitted that such a capability has quietly been in play for a few months.
HDS also is looking to certify its TrueNorth partners to be able to provide first-call support for Hitachi UCP solutions featuring VMware and Cisco UCS technologies, and on Thursday unveiled Eden Prairie, Minn.-based Datalink as its first partner with such a capability.
NEXT: Named Accounts, New Remote Services From HDS
Printer-friendly version
Email this CRN article