Printer-friendly version
Email this CRN article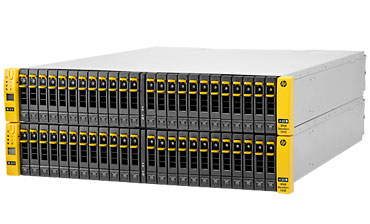 HP 3PAR StoreServ 7450 all-flash array
Hewlett-Packard on Tuesday unveiled one of the largest-ever refreshes of its storage technology with a host of new hardware and software products including its first-ever all-flash storage array optimized for flash technology.
The releases, unveiled at the HP Discover 2013 conference, held this week in Las Vegas, also include a virtual version of the HP StoreOnce deduplication appliance as well as a new LTO-based tape library that scales to up to 3.5 petabytes.
The new storage offerings will continue the momentum that HP's 3PAR line has been building, said Rich Baldwin, CIO and chief strategy officer at Nth Generation Computing, a San Diego-based solution provider and longtime HP partner.
[Related: HP Unleashes All In One Commercial PC Offensive]
"This will go far in helping HP to start recapturing its storage market share," Baldwin said.
David Donatelli, executive vice president and general manager of HP's Enterprise Group, cited three major trends impacting the storage business, including converged infrastructure, the cloud and software-defined data centers.
"All three trends are important," Donatelli said. "All three will change the infrastructure. And in all three, HP is leading."
For instance, Donatelli said, HP in its most recent quarter saw a 48-percent year-over-year growth in converged storage product solutions, with its HP 3PAR storage business growing 82 percent.
Furthermore, he said. HP is the only company shipping products in all the core components of the software-defined data center.
For HP, the new storage releases come at a critical time.
HP is still the world's second-largest storage manufacturer when counting storage sold both external and internal to servers, and the company has traditionally relied on its strength as a server vendor to open the door for its storage.
However, that is changing as HP's server and storage business both have taken hits recently.
Gartner late last month reported that HP's first-quarter server shipments plummeted 15.2 percent compared to the first quarter of 2012. That lead to a 10.9 percent drop in HP's server revenue to $2.6 billion.
Because of the strong ties between server and storage sales, HP's storage business also took a hit. IDC last week estimated HP's first-quarter storage revenue at $1.2 billion, a 17.4 percent drop in revenue over last year.
NEXT: HP 3PAR StoreServ 7450, HP's First Flash-optimized Array
Printer-friendly version
Email this CRN article