Printer-friendly version
Email this CRN article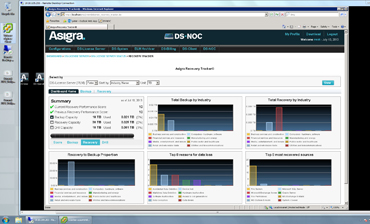 Click for full-sized view.
Cloud data protection technology developer Asigra on Wednesday said it plans to disrupt the pricing model for disaster recovery by charging customers primarily for the amount of data restored and not for the amount of data backed up.
Under the new Asigra Recovery License Model, which was introduced Wednesday at the company's annual partner conference held this week in Toronto, customers pay a much lower cost than normal for backing up their data to the Asigra cloud while paying to restore data in the event of a disaster.
The Asigra Recovery License Model also provides for low-cost disaster recovery testing, and it provides solution providers with a wealth of information related to their customers' backup and recovery use, said Eran Farajun, executive vice president for Toronto-based Asigra.
[Related: Asigra Adds Cloud-To-Cloud Backup Of Google Apps]
"We are introducing recovery-based performance pricing," Farajun said. "We are decoupling the backup and recovery licensing. In backups today, you pay to recover 100 percent of a backup. But, no one recovers 100 percent of their data."
Under the Asigra Recovery License Model, customers pay $0.166 per GB per month to back data up, and on top of that pay for the cost of recovering data if needed, Farajun said.
The minimum cost for recovering data is $0.167 per GB per month if only 5 percent of data is recovered, while the maximum is $0.50 per GB per month if 25 percent or more of the data is recovered.
Farajun compared this to the industry standard of $0.66 per GB per month for business-class backup and recovery.
Historically, backup and restore have always been coupled together because everyone assumed that data that is backed up will be restored, said Tom Dugan, CEO of Recovery Networks, a Philadelphia-based MSP and Asigra partner.
"Asigra is decoupling the backup cost from the restore cost," Dugan said. "As the amount of data that is backed up continues to grow, the percentage, which is restored, is falling."
NEXT: Helping Customers Understand The Value Of Restores
Printer-friendly version
Email this CRN article