Printer-friendly version
Email this CRN article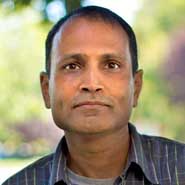 Vineet Jain
Enterprise file sync and share service provider Egnyte this week said it is providing enterprise document collaboration and sharing for Google Drive via a solution that provides a single view of applications residing on-premises, in the cloud, or on Google Drive.
The new solution also allows Google Drive and Microsoft Office applications, including apps created by Microsoft Office 365, to be stored securely on premises, making it possible to access these files from any client or mobile device, said Vineet Jain, CEO of the Mountain View, Calif.-based storage vendor.
With the new solution, Egnyte, a company that counts Google as an investor, will provide a file serving platform for SMBs and enterprises that take advantage of Google Drive, Jain said.
[Related: Dropbox Unveils Dropbox Platform For Developers To Add File Share, Sync To Mobile Apps]
"Google can be used to create content, but it's really a single-user solution," he said. "We allow businesses to add provisioning, real-time auditing and control for their users' Google documents. We're bringing the Google Drive to the enterprise SAN or NAS, where it can be used like a traditional application."
The release of the new Egnyte solution for Google Drive is good timing now that Microsoft has said it will retire its Windows Small Business Server Edition, said Anthony Chiappetta, president of AMC Solutions, a San Dimas, Calif.-based solution provider and partner to Egnyte, Microsoft and Google.
Chiappetta said he has been looking for a solution outside of the Microsoft stack that plays nicely with Google Docs.
"Egnyte will make Google Docs more attractive," he said. "Customers will be able to save their Google documents as if they were traditional files, and not just to the cloud. And they won't have to move their files around to share them."
For solution providers, the real benefit of the new Egnyte solution with Google Docs vs. another file sync and share service like Dropbox is having a local server and storage component, Chiappetta said.
Training a traditional user who has been used to dealing with hard drives to save files to start using the cloud is not easy, he said.
NEXT: Egnyte/Google Viable Microsoft Small Business Server Alternative
Printer-friendly version
Email this CRN article