Printer-friendly version
Email this CRN article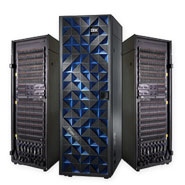 IBM PureSystems
Cloud management software developer Egenera this week continued to expand the capabilities of its PAN Manager converged infrastructure software with its new certification for use with the IBM Flex System.
Egenera in the near future also expects support for OpenStack cloud architectures in its PAN Manager, said John Humphreys, vice president of marketing for the Boxborough, Mass.-based company.
Egenera has also inked an agreement with Ingram Micro's Emerging Vendor Initiative to make it easy for customers and partners of EMC's VSPEX reference architectures to work with PAN Manager, said Chris Cleary, vice president of worldwide channels at Egenera.
[Related: Converged Infrastructure Bets Are In: Where Are They Paying Off?]
Egenera and its PAN Manager data center administration software has proven to be a real plus in the channel, said Jody Ferguson, vice president of JTEK Data Solutions, a Bethesda, Md.-based solution provider and Egenera partner.
"We'd come across the Egenera product in the field at times," Ferguson said. "When we first contacted the company, we were shocked at how well they set up the channel with training, marketing, their whole on-boarding process. It was perfectly in line with us."
The certification of PAN Manager with IBM PureSystems, based on the IBM Flex Systems chassis platform, makes it easier not only to connect the IBM technology to other converged infrastructures but also to help IBM customers migrating from existing Blade System platforms to PureSystems, Humphreys said.
"If a customer moves from a Blade System to Pure, they can fall back from one to the other and back," he said. "Not even IBM can do that. This allows customers to migrate over time at their own pace. This lets partners go through what would have otherwise been a more disruptive transition while adding their own services."
Signing with Ingram Micro's Emerging Vendor Initiative is the latest move to make Egenera's PAN Manager software the go-to tool for making EMC's VSPEX compatible with a wide range of server platforms, including Hewlett-Packard, Dell and now IBM, Humphreys said.
For JTEK Data Solutions, which pretty much deals exclusively with EMC and VMware as partners, having an Egenera relationship helps expand its EMC VSPEX implementations, Ferguson said.
"For us, the Egenera software is the glue to add other technologies with monitoring and predictive analysis to the VSPEX reference architecture," he said. "It provides analysis and information to add to the flexibility of deployment. And whatever the server vendor is, Egenera can handle the networking connections and switching."
PUBLISHED JULY 19, 2013
Printer-friendly version
Email this CRN article