Printer-friendly version
Email this CRN article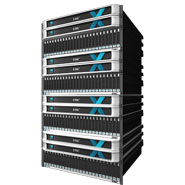 XtremIO, EMC's first all-flash storage array
EMC this week provided an update on some of its product lines and plans for the second half of the year, including updates on the release of its XtremIO all-flash storage array and the second generation of its VNX unified storage line.
EMC President and COO David Goulden offered the product line update during EMC's second fiscal quarter 2013 financial conference call.
Among the most-anticipated offerings from EMC is the XtremIO all-flash storage array.
[Related: EMC: Refocus Of Business Into Three Parts Gives Company A Strong 2Q]
EMC's XtremIO all-flash storage array, based on EMC's 2012 acquisition of Israel-based XtremIO, is currently on track to be released into general availability in the fourth quarter, Goulden said.
The XtremIO all-flash storage arrays are currently in what EMC calls "directed availability," meaning that it can be sold to customers with certain use cases.
A few solution providers have already sold their first XtremIO solutions.
One of them is EMC partner Lumenate. Jamie Shepard, regional vice president of the Dallas-based solution provider, said his company in the second quarter sold one to a large university, which he declined to name, for a virtual desktop infrastructure (VDI) project.
The XtremIO sale was driven by a need for performance based on Lumenate's assessment of the university's users and their application requirements, Shepard said.
"The university was originally going to do a bake-off with other all-flash arrays," he said. "But based on our consulting, the application performance metrics, and the fact that we wrote a white paper about XtremIO, the university decided to give us the deal with no bake-off required."
Shepard said several new EMC solutions such as the XtremIO and the VMAX Cloud Edition, the latter of which offers 14 different cloud pricing bands, require solution providers to rethink how they sell high-end solutions.
"EMC technology is forcing us to spend more time with end users and not just focus on the product performance," he said. "We need to know who the end users are, and what they do.
Goulden also said that EMC was on track to release the second generation of its VNX unified SAN-NAS storage solution during the current quarter.
Shepard said that EMC discussed some of the upcoming changes in VNX during May's EMC World conference.
NEXT: Updates on VNX, ViPR, Software-defined Storage
Printer-friendly version
Email this CRN article