Printer-friendly version
Email this CRN article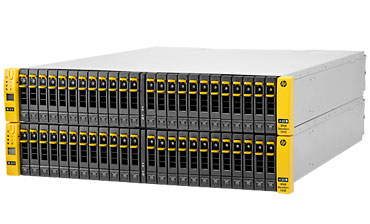 HP 3PAR StoreServ 7450 all-flash array
Hewlett-Packard on Tuesday expanded its StoreVirtual software-defined storage platform with new tiering capabilities and a new licensing system to provide partners and customers with more flexibility in smaller and larger environments.
HP also unveiled new VMware and SAP plug-ins for its HP 3PAR storage arrays to make it easier for solution providers to deploy the technology in their customers' environments, said Brad Parks, senior manager for HP storage go-to-market strategy.
The new version of the HP StoreVirtual Virtual Storage Appliance (VSA) is a key component of HP's software-defined storage strategy, Parks said.
[Related: Cloud Storage For All: How To Build Your Own Practice]
"HP talks about driving robust storage sitting on anybody's hardware platform," he said. "We're helping customers cut costs by letting them use and reuse their existing storage and server assets."
The HP StoreVirtual VSA has proven to be a highly reliable offering, said Rich Baldwin, CIO and chief strategy officer at Nth Generation Computing, a San Diego-based solution provider that has worked with the solution since before HP's 2008 acquisition of LeftHand Networks, the developer of the technology.
"In some cases, customers may have found [StoreVirtual VSA] performance to be an issue, but that's because they didn't listen to us," Baldwin said. "We may tell them they need a Fibre Channel SAN array, but they say it costs twice as much as the VSA. And in these cases, unfortunately, we were right."
HP made two major enhancements to its StoreVirtual VSA.
The first is adaptive optimization, which is HP's term for sub-LUN tiering.
Sub-LUN tiering looks at frequently accessed blocks of data, and it moves those blocks to a higher-performance storage tier such as an SSD or to flash storage in a server, Parks said. Older data that has not been accessed for several weeks can be moved to lower-cost storage technology.
"This is the first time sub-LUN tiering has been offered as part of software-defined storage," he said.
For solution providers, sub-LUN tiering means new opportunities to offer advanced storage services, especially with smaller customers, Parks said.
"Now they can go in not just with a server offering but also with new storage around the servers such as internal SSDs, as well as take advantage of older servers, to implement shared storage," he said. "This can be a big cost saver for customers who may only need to buy the software and not new hardware."
NEXT: New Licensing For HP StoreVirtual Virtual Storage Appliance
Printer-friendly version
Email this CRN article