Printer-friendly version
Email this CRN article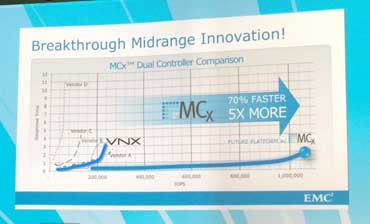 MCx's Dynamic Core Utilization (from EMC World)
Click for full-sized view.
To take advantage of the MCx technology, EMC also is making a significant update to its VNX operating system, which until now has been a combination of EMC's legacy FLARE SAN operating system and DART NAS operating system, united behind a common GUI.
With VNX2, the software is a single operating system that takes advantage of the MCx technology and ensures better utilization of flash storage in the array, Lumenate's Shepard said.
"EMC's new multicore processor technology is huge," he said. "This is a complete rewrite of the VNX. All the processors are going to be utilized for performance. The intelligence behind the cores will be available for all the applications."
"EMC has been doing multicore processing with software intelligence in the VNX," Shepard said.
"But with FLARE, the software might flood one or two cores while the others remain idle," he said. "Now the VNX will have more cores and software that can manage them all. VNX now already offers high read speeds. But with the change, it will be better able to handle high write-intensive applications."
While the original VNX was panned by the competition, including by archrival NetApp, for keeping the legacy FLARE and DART operating system, that has not hurt EMC's VNX sales, Shepard said.
"EMC could have reworked the operating system from day one but wanted to see what the industry wanted," he said. "If something's not broke, it doesn't need fixing. Did it hurt EMC? No. It has continued to grow faster than NetApp did."
Another solution provider who has been following the VNX2 development and who requested anonymity, said that while the VNX2 promises "transformative" performance and capabilities over the VNX, the impacts from competitive storage arrays and a move toward scale-out storage remain to be seen.
"Will the scale-up approach of VNX be king?" the solution provider said. "Or will scale-out take over? The market is going to buy both. The market wants to see price vs. performance."
The solution provider also noted that a lot of flash storage array vendors are coming to market and gunning for EMC's business.
NEXT: Getting Ready For The Arrival Of The VNX2
Printer-friendly version
Email this CRN article