Printer-friendly version
Email this CRN article
Pages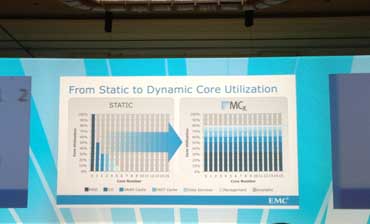 MCx's Dynamic Core Utilization
Click for full-sized view.
"Everyone is doing slide comparisons vs. EMC because EMC is the market leader," the solution provider said. "Only time will tell if the rest of the market will make a dent in EMC's business. Nimble Storage, Violin Memory, Pure Storage, and Simplivity, as well as the classic Hewlett-Packard, Dell, NetApp and Hitachi -- they are all going after EMC."
Shepard said Lumenate is looking forward to promoting the VNX2 and plans to continue with EMC's racing theme.
"On Sept. 14 or Sept. 16, we're doing an event at F1 Boston featuring indoor Go Kart racing," he said. "Customers will wear the uniform and helmet, and race in teams."
PUBLISHED AUG. 27, 2013
Pages
Printer-friendly version
Email this CRN article