Printer-friendly version
Email this CRN article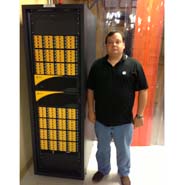 Kevin Madsen and his HP 3PAR storage
Christmas, Thanksgiving and Easter are times when most people are counting their blessings. But for the IT folks at HoneyBaked Ham of Georgia, the holidays were a time for counting how far they were behind in processing orders -- until help arrived from a local storage solution provider.
That solution provider, Atlanta-based VeriStor Systems, was able to alleviate HoneyBaked's peak business swings and give the company's IT department back some of its holiday spirit by upgrading its storage infrastructure with Hewlett-Packard 3PAR technology.
It was a most welcomed upgrade, said Kevin Madsen, IT infrastructure director at HoneyBaked Ham of Georgia, the Alpharetta, Ga., operation of HoneyBaked Ham, based in Troy, Mich.
[Related: HP's New 3PAR Storage Now Extends From Midrange To Enterprise, Targets EMC's VNX/VNXe]
HoneyBaked's business is seasonal, with daily sales volume rolling into the major holiday seasons growing by up to 10,000 times nonholiday volume, Madsen said.
"We were just not able to keep up with the volume," he said. "By 9 a.m., I was already behind in processing orders. We could be up to 12 to 14 hours behind during the peak season."
On a normal day, Madsen said he could handle sales volume with a pair of SATA hard drives. "Unfortunately, we have to build everything for peak," he said.
Having up-to-the-minute information about sales and inventory at HoneyBaked Ham of Georgia's 100 corporate and 200 franchise stores, where the hams are sliced and glazed just before they are sold, was essential during the holiday periods, Madsen said.
"We might have one store sold out, but plenty of stock at another store just down the road without realizing it," he said. "Our district managers couldn't get the insight they needed. And it was hard to manage labor."
At one time, HoneyBaked Ham of Georgia thought it had built itself for peak business thanks to a Hitachi Data Systems AMS 200 it installed a few years ago. However, sales growth outstripped that array's ability to keep up, and so the company looked for a new solution.
Cloud computing was considered a way to handle the burst of business during the three primary holiday seasons, Madsen said.
"The biggest problem is finding a single person who understands a problem without 20 other people pointing fingers at each other," he said. "Today, I understand the servers and storage. I understand where everything is."
NEXT: Finding The Right Storage And Storage Partner
Printer-friendly version
Email this CRN article