Printer-friendly version
Email this CRN article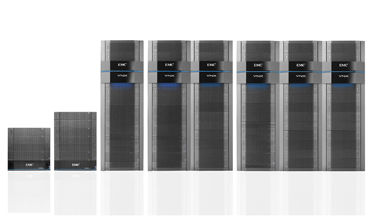 EMC's Second-generation VNX Lineup
EMC Tuesday unveiled its second-generation VNX storage array featuring a new multicore architecture and a new operating system that can take advantage of that hardware.
EMC, using the Formula 1 racing event in Milan, Italy, as a backdrop, also said that its new EMC ViPR software-defined storage solution is expected to ship in September. It includes support for Object Data Services, which supports Amazon S3, OpenStack Swift and Atmos APIs while enabling enterprises and service providers to store, access and manipulate objects.
The second-generation VNX, which EMC claims can provide up to 1.1 million IOPS (I/Os per second) performance, 30-GBps bandwidth, and 6 PB of capacity, will be available as a stand-alone array and as part of four new configurations of the EMC VSPEX reference architecture for integrating server, storage and networking resources, said Eric Herzog, senior vice president for EMC's Unified Storage Division.
[Related: EMC's New Software-Defined Storage Play: Meet ViPR]
Herzog said the second-generation VNX will be at the center of a new preconfigured Vblock converged infrastructure solution from VCE. VCE, a joint venture of EMC, Cisco and VMware, is expected to launch that and other new Vblocks later this month, Herzog said.
The second-generation VNX launch is very important for the channel, said Keith Norbie, director of server, virtualization and storage for the Eastern U.S. for Technology Integration Group (TIG), a San Diego-based solution provider and EMC partner.
"I think this will be real big," Norbie said. "EMC is introducing new models priced both above and below its existing VNX models. It's part of EMC's bifurcated strategy. They're letting customers go downscale, or above and beyond in terms of performance."
John Flisher, technical consultant manager at eGroup, a Mt. Pleasant, S.C.-based solution provider and EMC partner, said eGroup is preparing a huge road show to get information about the new VNX to customers in the same fashion the company did with the release of the original VNX.
NEXT: Channel-Led Launch Of The Second-Generation VNX
Printer-friendly version
Email this CRN article