Printer-friendly version
Email this CRN article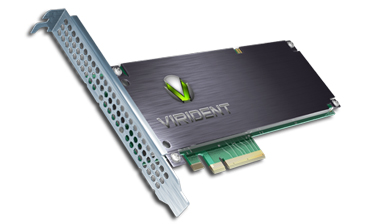 Virident FlashMAX II PCIe flash storage
Hard drive and SSD vendor Western Digital on Monday said it plans to acquire flash storage developer Virident for about $685 million, giving the company a strong flash storage portfolio and possibly cutting arch-rival Seagate from an important technology partner
The acquisition, which after subtracting Virident's cash is expected to result in a $645 million enterprise value, is slated to be added to Western Digital's HGST organization as a way to bolster the company's enterprise SSD and flash storage business, said Steve Milligan, Western Digital president and CEO.
"We look forward to the Virident team playing a central role in our enterprise business, Milligan said during a Monday conference call with press and analysts.
[Related: Seagate Invests $40M In Virident, Forges PCIe Development Pact]
The move follows Western Digital's June acquisition of SSD pioneer sTec and its July acquisition of Velobit, which developed software for using flash storage in virtualized desktop (VDI) environments, Milligan said.
Like sTec and Velobit, Virident will become a part of HGST, which Western Digital acquired in 2011. Mike Gustafson, Virident CEO, will become an HGST senior vice president leading the Virident team under Mike Cordano, president of HGST, Milligan said.
"These moves will augment HGST's SSD portfolio with capabilities that will enable us to help data center customers to solve their most significant data infrastructure challenges," he said.
Todd Swank, senior director of product marketing at Equus Computer Systems, a Minneapolis-based system builder, said Western Digital's planned acquisition of Virident shows the continuing consolidation of the SSD market, a move he said he welcomes.
"Companies like SanDisk, Micron, Intel and Seagate are adding to their SSD tech portfolio," Swank said. "Western Digital has to keep up."
It will get increasingly harder for SSD and flash storage vendors to compete as the larger vendors continue to increase in size, Swank said. "There are a lot of companies out there, but it's tough for them to compete," he said. "They need to consolidate."
That makes it important for Western Digital to acquire a company like Virident, Swank said.
"What does Western Digital offer today that companies like SanDisk, Micron, Intel, Seagate or Samsung don't?" he said. "This opens the door for Western Digital to compete. Consolidation is a good thing. It makes the companies stronger."
NEXT: Virident Brings Hardware, Software To Western Digital, Could Leave Seagate In The Lurch
Printer-friendly version
Email this CRN article