Printer-friendly version
Email this CRN article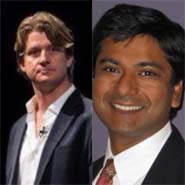 Vaughn Stewart (left) and Manish Goel
NetApp in the past couple days has seen two seasoned executives leave the company, but a channel partner said the changes are part of the normal evolution of well-established businesses.
NetApp, in a late Friday SEC filing filed after the stock market close, announced Manish Goel, executive vice president of product operations, will resign from NetApp effective Sept. 20, 2013.
NetApp, in an emailed response to CRN, said that Goel left to take the CEO position at a privately held data analytics company located in the San Francisco Bay Area.
[Related: NetApp Exec Shakeup Names New Strategy, Technology Chiefs]
George Kurian, senior vice president of NetApp's Data Ontap Group, will take over Goel's position effective immediately, NetApp wrote. Kurian, who joined NetApp in March 2011, also served as the company's senior vice president of its Storage Solutions Group where he oversaw NetApp's solutions portfolio and joint partner technology integration road maps, NetApp wrote.
Also leaving NetApp is Vaughn Stewart, who until this month was NetApp's director of technical marketing and cloud evangelist after serving as the company's virtualization evangelist. Vaughn in a Monday blog post said he has taken a position at all-flash storage array vendor Pure Storage, which last month closed a huge $150-million round of funding.
NetApp told CRN the company is currently looking to hire a replacement for Stewart.
The departures from NetApp do not appear to have a big impact on the company, said Keith Norbie, director of server, virtualization and storage for the Eastern U.S. at Technology Integration Group (TIG), a San Diego-based solution provider and NetApp partner.
"It's part of the normal evolution of business," Norbie said.
For Stewart, the move to Pure Storage is a huge opportunity for both him and the company, said Norbie who has known Stewart for years.
Pure Storage, with its all-flash storage arrays, has the kind of storage industry differentiation that Data Domain had when it first introduced deduplication, he said.
"Pure takes dedupe to the lowest level of anyone," he said. "It lets Pure offer flash storage at the price of disk. When that happens, there will be no reason to buy disk storage unless you feel the issue of flash wear raises concerns about the need for disk-based archiving. If you ask 100 CIOs, you wouldn't find one who would take disk over flash if they were priced the same."
Furthermore, Norbie said, the success of startups like Pure, or Nimble Storage, or Nutanix, shows that people are just as important as the technology to that success.
"Pure Storage is getting Vaughn Stewart, a storage giant who has made his mark," he said. "He's on panels everywhere as a storage expert."
NEXT: Stewart Gets Ready For The "Next Seismic Shift"
Printer-friendly version
Email this CRN article