Printer-friendly version
Email this CRN article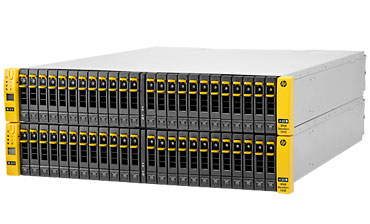 HP 3Par StoreServ array
Tech Data rolled out a new program to help solution providers with installation and deployment services for Hewlett-Packard's 3Par storage solutions.
Under the new program, Tech Data will begin delivering installation and deployment services under the HP ServiceOne program, said Sheri Hedlund, vice president of product marketing in Tech Data's HP Solutions Group.
"We're starting with the HP 3Par StoreServ storage offering," Hedlund said. "This will expand to other products and life-cycle services. There are other product lines in ServiceOne. But we're not naming other specifics yet."
[Related: HP Intros Flash-Optimized 3Par Array, Virtual Dedupe Appliance]
The new services program was unveiled at the Tech Data Channel Link conference, being held this week in Anaheim, Calif.
The program could be an important way to augment the services of solution providers that may not have the necessary skills, said Rick Atwood, vice president and CFO of Avinext, a College Statin, Texas-based solution provider and partner to both HP and Tech Data.
"Partners who are not really strong in storage services would be very interested in the program," Atwood said. "We have our own services, so we would not use it as often. But there are cases when we don't have enough people and could definitely use this to augment our services."
With ServiceOne, HP sees a lot of partners needing help preparing solutions before deployment, said Ken Archer, vice president and general manager of technical services, channel and alliances at HP, Palo Alto, Calif.
Tech Data is combining this with its inventory capabilities, making it a unique offering many distributors do not have, Archer said.
"What customers look for from the channel is flexibility and agility," he said. "They're not great planners. It takes a long time to prepare a P.O. Partners like Tech Data and its solution providers make it easier to work with customers."
The new program is the first for Clearwater, Fla.-based Tech Data related to direct installation and deployment services from any vendor, said Hedlund.
"This is big for Tech Data," she said. "It's our first step into the services side for us. This relationship will help us expand our services business."
PUBLISHED SEPT. 19, 2013
Printer-friendly version
Email this CRN article