Printer-friendly version
Email this CRN article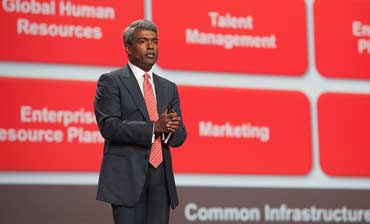 Thomas Kurian
Oracle Tuesday delivered new services to the Oracle Cloud -- including compute and storage services and a database-as-a-service offering -- and made them available for channel partners to offer customers on a resale or referral basis.
Thomas Kurian, Oracle executive vice president of product development, called the Oracle Cloud and its new services the "single most important project" on which Oracle is working.
"These [services] will change the way you consume our software [and] use our software," Kurian said.
[Related: Oracle OpenWorld: Oracle All-In On Big Data]
Oracle Tuesday used its Oracle OpenWorld conference in San Francisco to unveil 10 new cloud services as part of the Oracle Cloud, and said it is providing integrated services across applications, social, platform and infrastructure in the cloud.
The new Oracle Cloud services include providing Oracle database software and WebLogic Java server as services, as well as providing both storage and compute resources as a service.
Oracle also has begun looking at how its solution providers work with the cloud, including giving channel partners the ability to resell Oracle Cloud services or refer potential customers to Oracle.
Oracle earlier in the week told solution providers that, while selling services from the Oracle Cloud will have a channel play, the technology is not available for others to build similar clouds.
Oracle President Mark Hurd said at a channel partner meeting that the Oracle Cloud was not designed for partners to build using Oracle technology.
"It's hard enough for Oracle to do it," Hurd said. "We'd rather partners sell it."
While Oracle has been developing the Oracle Cloud over the past year, this is the first time the company presented it in such detail, said Kent Kellough, western area vice president at Advanced Systems Group, a Denver-based solution provider and Oracle partner.
Kellough said he sees multiple opportunities for Advanced Systems Group to work with the Oracle Cloud.
For startups using Oracle applications, for instance, partners could help them sign up for the Oracle Cloud and then gradually help them move their applications to their own data centers as they grow, he said.
"As they grow, we can help them do the right analysis to see if they need to go on-premise, or move to a hybrid solution," he said. "Or it may be that staying on the cloud is the right solution."
NEXT: Oracle Cloud And The Channel
Printer-friendly version
Email this CRN article