Printer-friendly version
Email this CRN article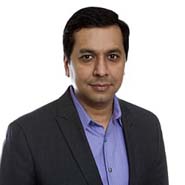 CJ Desai
EMC has formed a new division bringing together its various emerging technologies and appointed a former Symantec and Oracle executive to run it.
EMC on Thursday said it has formed a new division, the Emerging Technology Products Division, under the leadership of Chirantan "CJ" Desai.
Desai, who joined EMC as president of the new division, came from a nine-year stint at Symantec where he most recently served as executive vice president of information management. Prior to Symantec, he also spent several years at Oracle.
[Related: Cloud Storage For All: How To Build Your Own Practice]
EMC's new Emerging Technology Products Division has at its core the company's previous Flash Business Unit, which includes its XtremIO all-flash storage arrays, ScaleIO software-defined storage technology, and XtremSF PCIe cards and XtremSW flash storage software. Also included are EMC's hybrid cloud gateways and high-performance computing storage lines.
Desai is reporting to EMC President and COO David Goulden.
At Symantec, Desai was most recently responsible for the company's backup and recovery, storage, cluster file system, high availability, and archiving products, and before that he managed the company's endpoint security and mobility technologies.
Desai's background with Symantec and Oracle makes him an "awesome" choice for EMC, said Jamie Shepard, regional vice president at Lumenate, a Dallas-based solution provider and long-time EMC channel partner.
While the IT industry tends to focus on high-profile executives like Pivotal CEO Paul Maritz and VMware CEO Pat Gelsinger, people like Desai and Amitabh Srivastava, president of EMC's Advanced Software Division, are just as important for advancing strategies and technologies, Shepard said.
"Both Desai and Srivastava are very smart people, and their organizations are very independent," he said. "That's perfect for what EMC is doing. ... Goulden has great strategic vision, and is aligned closely with marketing and [Executive Vice President and CMO] Jeremy Burton."
NEXT: Desai Brings Application, Security Focus To EMC
Printer-friendly version
Email this CRN article