Printer-friendly version
Email this CRN article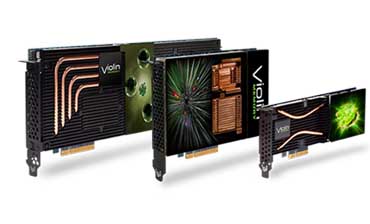 Violin Memory's Velocity PCIe flash memory cards
Flash storage has a strong future, and the growth of startups like Pure Storage, PernixData and Nimble Storage is off the charts, TIG's Norbie said.
However, Violin's IPO could have been the victim of bad timing, coming closely after EMC acquired XtremIO, and IBM unveiled plans to invest $1 billion in the flash storage market, including its acquisition of Texas Memory Systems (TMS), Norbie said.
The key to Violin Memory's future depends on how pervasive flash storage will be in the data center, he said.
"Companies can't just focus on the millions-of-IOPS [IOs per second] part of the market," he said. "I like what Pure Storage is doing. They're going to a broad marketplace, like Data Domain did back when it came out with its first deduplication appliance."
Time will tell, Norbie said. "Violin has one of the highest-performing architectures," he said. "But how pervasive will that be in a typical data center? The average storage deal is $75,000 to $100,000. The average flash storage deal is $150,000. Violin, however, is looking at the highest-performance workloads. So until flash is pervasive in the data center, that's the market parameter for the flash market."
When Violin Memory first came to market, it had what seemed to be the best performance, said Rich Baldwin, CIO and chief strategy officer at Nth Generation Computing, a San Diego-based solution provider.
However, over time, others also joined the market, with some like Fusion-io having equally good product at lower price points, Baldwin said.
"Violin went for the high-end enterprise," he said. "But a lot of guys found they could get flash storage cheaper."
The Violin Memory IPO might have been a year to 18 months late, Baldwin said. "There was a time when Violin had a unique product," he said. "Violin and Fusion-io were known as the best. Now several smaller companies have joined them in the market."
Now that EMC, IBM and the other top vendors have made flash storage acquisitions or have invested heavily in their own flash technology, there is no one big enough to acquire a company like Violin Memory, Baldwin said.
NEXT: IPO May Be 'Necessary Evil'
Printer-friendly version
Email this CRN article