Printer-friendly version
Email this CRN article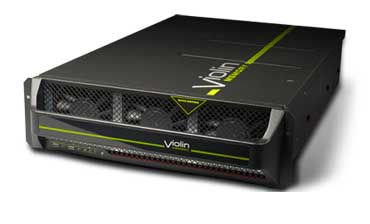 Violin Memory's 6000 Series flash memory arrays
Last week's disappointing IPO of flash storage vendor Violin Memory is less about the company's industry-leading technology and more about how the company goes to market, according to several solution providers closely following the flash storage industry.
Violin Memory on Sept. 27 opened its IPO by selling about 18 million shares at $9 each, giving it a total IPO of $162 million. However, share prices closed that day at $7.02, and despite hitting a peak of $7.85 on Tuesday have struggled to rise. The company's share prices closed this week at $7.51 per share.
The low share price comes despite a robust and fast-growing market for flash storage. IDC in April estimated the all-flash storage array market will hit $1.2 billion by 2015. Analyst firm IHS in August said SSD shipments in the first quarter of 2013 nearly doubled compared to shipments in the first quarter of 2012.
[Related: Pure Storage Gets $150M Funding, Talks Big Plans For All-Flash Storage Arrays]
Violin Memory's product line stretches from all-flash storage arrays for primary storage to PCIe flash storage accelerators to software for managing flash storage.
The company has done well. Aaron Rakers, an analyst with Stifel Nicolaus Equity Research, wrote in July that, based on Gartner data, Violin Memory had a 19.4 percent share of the flash storage array market in 2012, which was ahead of such established companies as EMC, IBM and NetApp.
Meanwhile, the company is looking to break away from a pack of competitors that include flash memory accelerator makers like Fusion-io and LSI.
It also has to compete with relative startup developers of all-flash storage arrays or hybrid flash-disk arrays such as Mountain View, Calif.-based Pure Storage; Newton, Mass.-based Kaminario; and Boulder, Colo.-based SolidFire.
Competitors also include well-established legacy storage vendors that are developing all-flash storage arrays and PCIe flash storage adaptors including EMC with its XtremIO acquisition and NetApp and its FlashRay plans, along with companies like Hitachi Data Systems, Hewlett-Packard and Dell, which have introduced all-flash versions of existing arrays.
While Violin has great technology, an IPO is just an IPO, said Keith Norbie, director of server, virtualization and storage for the Eastern US at Technology Integration Group (TIG), a San Diego-based solution provider.
"The IPO is just part of the ups and downs of an emerging technology sector," Norbie said. "People are quick to predict doom."
NEXT: Bad Timing and Violin Memory's IPO
Printer-friendly version
Email this CRN article