Printer-friendly version
Email this CRN article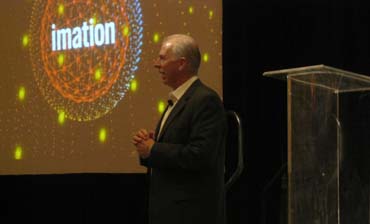 Imation CEO Mark Lucas
Imation, which turned itself from a slowly fading provider of storage media into a powerhouse midrange and enterprise storage and security vendor with a couple of key acquisitions, used its first partner conference in two years to tout its resurgence and prepare for the future.
The celebration this week at the NexStep partner conference in Las Vegas included the introduction of incentives to help solution providers take advantage of the company's Nexsan storage line to better compete against larger companies such as EMC and NetApp.
[Related: Imation Buys Nexsan In $120M Push To Expand Storage Business]
Imation and Nexsan have both come a long way since Imation acquired Nexsan in January in a $120 million deal, according to Mark Lucas, CEO of Oakdale, Minn.-based Imation.
It was Imation's second major enterprise IT acquisition after the company's 2011 acquisition of IronKey, a developer of USB flash storage, security and virtual PC technology.
Prior to those acquisitions, Imation was a major player in the storage tape and other media business facing a fast-declining market, Lucas said in a keynote address at the NexStep conference.
"Why the acquisitions? The answer is very simple. It's for growth. Imation is steeped in media that has not been growing," he said.
What Imation did have, however, was brand recognition and a solid financial foundation, Lucas said.
"We bring scale," he said. "And we bring cash. We're debt-free."
All of that has benefited Nexsan, which until it was acquired was profitable but had reached a plateau in its growth.
Imation is investing about $10 million in its Nexsan business, Lucas said. The company is hiring an additional 12 salespeople and is expanding its engineering staff by about 50 percent.
Imation is quickly growing its support team as well, he said. "We realize that if we want to sell more, we have to support more," he said.
That kind of investment is needed for the future, Lucas said. "We have legacy businesses that are going down," he said. "We are investing to grow."
NEXT: Imation Helps Nexsan Storage Grow
Printer-friendly version
Email this CRN article