Printer-friendly version
Email this CRN article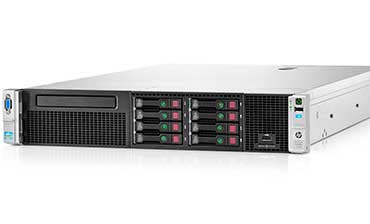 HP ProLiant DL380 Gen. 8 server
Hewlett-Packard on Tuesday said it is bundling for free a version of its HP StoreVirtual VSA (Virtual Storage Appliance) with its HP ProLiant Gen8 as a way to introduce SMB customers to the benefits of software-defined storage.
The HP StoreVirtual VSA license bundled with new HP ProLiant Gen8 (generation 8) servers lets customers install a virtual storage appliance with up to 1 TB of capacity on the servers for no charge, said Dave Scott, senior vice president and general manager for HP storage.
The license also allows up to three ProLiant Gen8 servers to be clustered together for a resilient software-defined storage platform with up to 3 TB of capacity, Scott said.
[Related: Software-Defined Storage: Separating The Reality From The Hype]
"We expect over 1 million ProLiant Gen8 servers to be sold over the next year, resulting in customers adding about 1 exabyte of software-defined storage capacity," Scott said.
The free license will give SMBs the opportunity to both leverage the virtualization capabilities of the HP ProLiant Gen8 servers and to test the concept of software-defined storage, which Scott said turns industry-standard servers from any vendor into a shared storage solution just by installing software.
The bundle seems like a pretty smart move, said Rich Baldwin, CIO and chief strategy officer at Nth Generation Computing, a San Diego-based solution provider and longtime HP partner.
"Everybody is hearing about software-defined storage, but HP can deliver it right now," Baldwin said.
Once SMB customers try the HP StoreVirtual VSA, the vendor probably expects a lot of them to purchase licenses for larger implementations, Baldwin said.
"This is a great way to get started," he said. "When customers see how well it works, they will buy more. For the SMB market, it's a great strategy."
Nth Generation currently sells both the HP StoreVirtual VSA and the P4000 physical appliance based on that software, and Baldwin said bundling the free version of the software is good news.
"The smaller customers we work with have 20, 30 or 40 terabytes of capacity," he said. "The 1 terabyte of capacity included with the bundle gives them a taste only of what they can do. So I see more opportunities to boost sales at the entry level."
NEXT: 1 TB StoreVirtual VSA Now, Room To Grow In The Future
Printer-friendly version
Email this CRN article