Printer-friendly version
Email this CRN article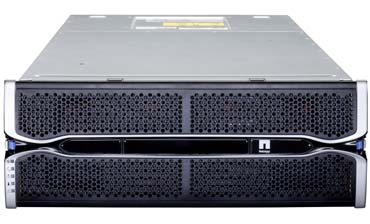 NetApp's E-series SAN arrays
NetApp on Tuesday enhanced its E-series of performance SAN arrays with the addition of two new disk arrays and the second in its series of all-flash storage arrays.
NetApp Tuesday also confirmed Regina Kunkle is its new vice president of North America channel sales.
The new arrays stem from NetApp's March 2011 acquisition of LSI's Engenio external storage business.
[Related: Pure Storage Gets $150M Funding, Talks Big Plans For All-Flash Storage Arrays]
New to the NetApp lineup is the EF550, an all-flash array featuring a sustained throughput of over 400,000 IOPS, a sub-millisecond response rate and over 12GB per second bandwidth, said Brendon Howe, vice president of solutions marketing for the vendor.
"The big difference between the EF550 and its competitors is that its performance numbers are sustained performance," Howe said. "If you add data protection, garbage collection, and so on, you get the same performance."
The EF550 comes with a base capacity of 19 TB in a 2U rack-mount form factor, and expands to nearly 100 TB with additional disk shelves.
The E550 is a follow-on to NetApp's first all-flash storage array, the EF540, Howe said.
The E550 is one-part of NetApp's two-part all-flash storage array strategy, Howe said. That strategy also includes NetApp's upcoming FlashRay solution that, unlike the E540 or E550, is slated to support the company's Data Ontap storage operating system.
NetApp has previously said the first products designed in the FlashRay family are expected to be available in beta by year-end, with general availability slated to start in the first quarter of 2014.
NetApp's EF540 and EF550 have great throughput and are feature-rich products ready for prime time, said John Woodall, vice president of engineering at Integrated Archive Systems (IAS), a Palo Alto, Calif.-based solution provider and NetApp partner.
"It's not like EMC's new XtremIO all-flash array," Woodall said. "That product still needs to prove itself."
NetApp also unveiled two new E-series SAN appliances. Like the EF540 and EF550, the new disk-based SAN appliances are based on a different operating system than NetApp's Data Ontap, which powers that company's FAS-series unified NAS/SAN storage solutions.
NEXT: New Hybrid Disk Arrays, Channel Chief
Printer-friendly version
Email this CRN article