Printer-friendly version
Email this CRN article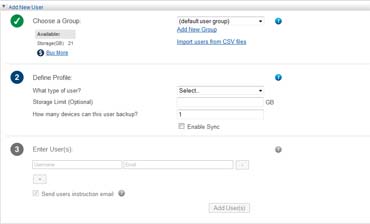 Adding a new user in Mozy Sync
Cloud data protection provider Mozy this week enhanced its business-focused offerings with new file sync capabilities.
Seattle-based Mozy, which EMC acquired in 2007,, also moved to allocate its storage service on a per-user basis rather than a per-device basis in recognition of today's increasingly mobile work force, said Russ Stockdale, general manager and vice president for engineering in EMC's backup and recovery systems group.
"This is a big new release for us," Stockdale said. "It's the next generation of Mozy, and captures the fact that the data protection space is evolving."
[Related: EMC Syncplicity Gets Enhanced Security, Policy Control For File Sync And Share Application]
Mozy Sync and the additions to Mozy's cloud data protection capabilities resulted from channel partner feedback, said Dave Chase, COO and CFO of CAP5 Technology Solutions, a Houston-based solution provider and longtime Mozy partner. Chase, whose company was a beta tester of Mozy's latest business capabilities, said he appreciates how Mozy listens to partners and applies their feedback to future product enhancements.
"The shift from a machine-focused to a user-focused offering was at the request of partners," Chase said. "In previous versions, Mozy was allocated according to specific devices. Now it's allocated by specific users, making it easier for them to use Mozy with multiple devices."
Stockdale said the change to allocate cloud storage capacity to users instead of to a device stemmed from the fact that users have multiple devices and quickly move from one to the other. "With the change, Mozy's online storage is allocated and managed according to users or groups," he said.
Mozy Sync, which integrates file sync capabilities with cloud-based data protection, also is an important capability for business users, Stockdale said. "IT guys want to protect everything by keeping it on a desktop, while users want to have access to data from anywhere," he said. "Mozy Sync allows both. With an offering like Dropbox, only what is put online is protected. With Mozy Sync, all a user's content on the device or in a sync folder is protected with a single interface."
Mozy Sync complements Mozy's cloud data protection offering, Chase said. "It enhances collaboration," he said. "That's becoming more and more important to users."
Having the two integrated is important for customers, Chase said. "We don't have to get another product that customers have to get trained on," he said.
With that function, Chase said he is still waiting for a team sync capability to be added to Mozy. "The ability to segment users into teams with file sync will become more and more important," he said. "I imagine Mozy is working on it."
Mozy also is now providing APIs that let customers remotely manage their cloud-based data protection.
EMC, meanwhile, is including Mozy as part of the EMC Data Protection Suite along with its other offerings such as Avamar and NetWorker, Stockdale said.
"Now customers can buy tiered storage in the cloud on a per-GB or per-TB basis," he said. "So Mozy becomes the cloud backup portion of the EMC Data Protection Suite."
PUBLISHED NOV. 22, 2013
Printer-friendly version
Email this CRN article