Printer-friendly version
Email this CRN article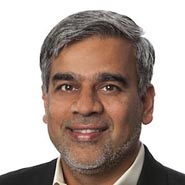 Nimble Storage CEO Suresh Vasudevan
Friday the 13th was a lucky day for Nimble Storage, which saw its share prices soar by over 50 percent on the day it held its IPO.
San Jose, Calif.-based Nimble Storage, trading on the Nasdaq exchange under the NMBL moniker, raised $168 million in one of the most successful IPOs of 2013 with an opening share price of $31.49, or 50 percent over its IPO price of $21 per share. That valued the company at over $2.2 billion.
Near the close of trade, share prices were up nearly 60 percent.
[Related: Violin Memory Post-IPO Fall Caused By Bad Timing, Fast-Maturing Flash Storage Market: VARs]
Nimble Storage hybrid solutions integrate high-performance flash storage technology with high-capacity hard disk drives, which allows customers to increase performance, capacity or both.
The company's Cache Accelerated Sequential Layout (CASL) architecture allows the building of storage arrays with up to 36 TB of raw flash storage and spinning disk capacity and such functions as dynamic caching with sub-millisecond latency, compression of data by up to 75 percent, thin provisioning, scale-out clustering, instant snapshot and recovery, and replication of data over a WAN.
Nimble Storage, which in September of 2012 closed its final funding round to bring funding in the company to $98 million, had been expected to do an IPO for some time.
Nimble Storage's IPO success is good news for not only the storage industry but also the channel, said Keith Norbie, director of server, virtualization and storage for the Eastern U.S. for Technology Integration Group (TIG), a San Diego-based solution provider and Nimble Storage partner.
"It's an interesting company," Norbie said. "I like the fact they're a success not just with the technology. It's about assembling the right tech plus the right people."
Norbie said Nimble has proven itself able to attract top-notch engineering and sales talent from such channel-friendly companies as EqualLogic, acquired in 2007 by Dell, and Data Domain, acquired in 2009 by EMC.
"It helps to have people familiar with the VAR community," Norbie said. "My advice for any company looking at an IPO is to invest in people who know the channel because that's where you'll find the people who know the customer accounts."
While Nimble Storage celebrates its successful IPO, not everything is going its way.
NEXT: Reading Between The Lines Of The Nimble Storage SEC Filing
Printer-friendly version
Email this CRN article