Printer-friendly version
Email this CRN article
Servers based on Intel's new Xeon processor with 64-bit extensions start hitting the market and the channel this week, bringing competition to the 64-bit x86-compatible market currently monopolized by AMD.
Hewlett-Packard, IBM and Dell are all introducing servers based on the new Nacona processors, just one week after Sun Microsystems unveiled four-way servers based on AMD's 64-bit Opteron CPUs.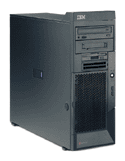 IBM's new eServer xSeries
206 server includes Intel's Nacona 64-bit processor.
In addition to the 64-bit CPUs, the servers have a number of new technologies in common, including DDR2 memory, 800MHz front-side bus and PCI Express I/O.
Tracy Barnet, vice president of IBM business development at Computer Tech, a Houston-based IBM
solution provider, said she is looking forward to the opportunities the new processor should provide.
"I like how it offers a transition to 64-bit computing using industry-standard architecture," she said.
HP, Palo Alto, Calif., this week will start shipping two, two-way Nacona-based ProLiant pedestal servers with 3GHz and 3.4GHz processors, starting at $1,529, said James Mouton, vice president of HP's platform division for its industry-standard servers.
HP is also starting to ship a 1U rack-mount server
with 3GHz processors and a 2U model with 3.4GHz processors. A two-way blade server with 3.2GHz processors is expected to be available in September, he said.
Meanwhile, Dell, Round Rock, Texas, expects to release a 1U rack-mount server and a pedestal server based on Nacona, said a company spokesperson. An entry-level and either a 5U rack-mount or tower enterprise-class version are expected in October. Dell also plans to release blade versions of the servers this fall, the spokesperson said.
Armonk, N.Y.-based IBM is also introducing Nacona-based servers, including a blade server, a workstation and one-way and two-way servers, said Stuart McRae, worldwide marketing manager for the company's xSeries servers. The one-way server and the two-way blade server are shipping this week, while the rest are expected to be available late this month.
Missing from everyone's Nacona offerings, however, is the new operating system designed to match it.
Microsoft, Redmond, Wash., last week said delivery of its Windows Server 2003 for 64-bit Extended Systems will slip to the first half of 2005.
Dave Henn, senior account executive at Advanced Solutions Group, a Tustin, Calif.-based solution provider, said the new 64-bit Xeon-based servers will be a relief for customers concerned about the future of new servers. "They are looking for how to go on without being forced to go down the Itanium path," he said.
As customers look to improve their return on investment with simpler, lower-cost servers to do ever more complex tasks, 64-bit computing is the way to go, said Henn. "The 64-bit (Xeon) is important because everybody is trying to go there without using Unix or Linux," he said. "Right now, they have to use Linux."
Printer-friendly version
Email this CRN article