Printer-friendly version
Email this CRN article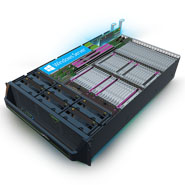 Violin Memory's Windows Flash Array
Violin Memory Tuesday introduced what it called the first all-flash storage array with Windows Storage Server 2012 R2 embedded as a way to accelerate Windows-based applications while letting customers use the management tools they already have in play.
The new Windows Flash Array from Violin Memory is also the first all-flash storage array that was developed together with Microsoft, said Eric Herzog, chief marketing officer and senior vice president of business development for the storage vendor.
"With the Windows Flash Array, we're embedding a copy of Windows Storage Server 2012 R2 in the array," Herzog said. "We're the only company to do so. Microsoft wrote code in Windows Storage Server that recognizes the Violin flash memory, while we wrote code to communicate with the operating system. We're the only flash storage company that has jointly developed Windows Storage Server 2012 code."
[Related: Former EMC Exec Plots Course To Help Reset Violin Memory]
The ability to offer an all-flash storage array tuned specifically for Microsoft Windows environments is a huge differentiator for Violin Memory, said Jamie Shepard, regional and health systems senior vice president at Lumenate, a Dallas-based solution provider and Violin Memory channel partner.
"The people I'm selling to know Windows Server and know clustering," Shepard said. "Violin is going head-to-head with the Nutanixes and with the pure-play flash storage array vendors of the world."
Microsoft Server is a well-known and trusted operating system, Shepard added. "People know it for its ease of use," he said. "We know Microsoft will continue to develop the software. And this addresses a market need immediately. Do you know how many customers do Microsoft?"
Because of the collaboration between Violin Memory and Microsoft, Violin's new Windows Flash Array can take advantage of SMB Direct, which enables the array to directly load data into the application server's memory to increase the application's performance, Herzog said.
It also takes advantage of RDMA (remote direct memory access) to increase bandwidth and can use the operating system to provide high-speed file performance in NAS environments, he said. It uses Microsoft's clustering tools as well, he said.
As a result, the Windows Flash Array provides twice the Microsoft SQL write performance and increases SQL read performance by more than 50 percent compared with typical all-flash storage arrays, Herzog said. It also increases Microsoft Hyper-V writes by more than 40 percent, drops latency at load by 50 percent, and decreases application server CPU utilization by 30 percent.
NEXT: Violin Memory Focuses On Flash Storage Performance To Free App Server Performance
Printer-friendly version
Email this CRN article