Printer-friendly version
Email this CRN article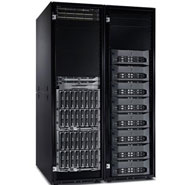 Dell Active System 800
VMware on Wednesday unveiled new relationships with strategic partners Dell and Cisco under which the two server vendors are bundling VMware's new Horizon View 5.2 suite to develop pre-configured converged infrastructures for virtual desktop infrastructures (VDI).
Dell and Cisco are the first two vendors to take advantage of VMware Horizon View, the VDI software previously known simply as VMware View. VMware Horizon View is a part of the new VMware Horizon Suite VMware unveiled Tuesday at the VMware Partner Exchange conference, held this week in Las Vegas.
Carl Eschenbach, VMware president and COO, unveiled the offerings during his keynote address at the conference.
[Related: VMware Top Execs Lash Out At Amazon Public Cloud]
VMware is working on a partnership with Cisco to develop VDI infrastructure on top of the Cisco UCS server platform, Eschenbach said.
VMware also worked with Dell to develop the Dell Desktop Virtualization System (DVS), a channel-focused VDI infrastructure based on Dell's Active System 800 converged infrastructure offering, he said.
Rafael Colorado, marketing director for desktop virtualization solutions at Dell, said his company is developing a new VDI workload on Dell's Active System 800 based on the company's enterprise VDI experience. "We believe our Active System 800 is the best converged infrastructure solution for VDI," Colorado said.
At the same time, Dell is expanding its VMware partnership into new combined solutions in the future, and it will reach out to VMware channel partners to take advantage of the solutions.
"We've created a program where we offer training and incentives to VMware partners through Dell PartnerDirect," he said.
In developing the VDI solution for the Dell Active System 800, Dell took advantage of customer feedback about the need to simplify VDI implementations in two areas, Colorado said. First, on the deployment side, partners are looking for simplicity in configuring complex solutions like VDI. Second, partners are looking for help in managing data center and virtual desktop infrastructures as they grow, he said.
"We developed this solution with VMware to ultimately leverage VMware channel partners," he said.
NEXT: Dell Offering Choice of Pre-configured Or Reference Architecture
Printer-friendly version
Email this CRN article