Printer-friendly version
Email this CRN article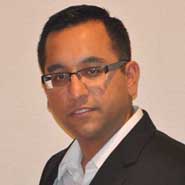 Poojan Kumar
Storage startup PernixData on Monday unveiled software it claims ties the flash storage and SSDs in multiple servers into a cluster to provide a high-performance storage tier for virtualized environments.
The PernixData FVP, a hypervisor for server-side flash, drops into existing customer deployments to add performance without the need for extra hardware other than adding more flash storage or SSDs into already-deployed servers, said Jeff Aaron, vice president of marketing for the San Jose, Calif.-based startup.
"We're solving a very tangible problem in both enterprises and SMBs: As their environments go virtual, their back-end infrastructure is not keeping up," Kumar said.
[Related: The 10 Coolest Flash Storage Products Of 2013 (So Far)]
The traditional answer to the problem has been to add more disk to increase storage performance, Kumar said.
"But for solving performance issues, adding more disk is disruptive and expensive, and may not solve the problem," he said. "Customers can also add more flash into servers, but that doesn't help the overall infrastructure. Our solution is the flash hypervisor, which takes the traditional hypervisor functionality and wraps flash around it."
Poojan Kumar, PernixData co-founder and CEO, said PernixData FVP is a 100-percent software solution that lets customers keep their existing shared storage infrastructure while taking advantage of server flash to increase storage performance.
It is a solution that works, said John Flisher, technical consultant manager at eGroup, a Mt. Pleasant, S.C.-based solution provider and a beta partner of PernixData for several months.
eGroup has been beta-testing PernixData FVP since October, both in its own lab and with between 5 to 10 customers, Flisher said.
"This is a simple solution," he said. "It drops right in. No agents. And it's storage-agnostic."
PernixData FVP comes with all the clustering technology built-in, Flisher said. "It lets customers do HA [high-availability], Vmotion, and VMware's SDRS [Storage Distributed Resource Scheduler] and DRS [Distributed Resource Scheduler]. And accelerated writes. A lot of flash technology speeds up reads, but not the writes."
PernixData FVP is a clustered software that aggregates server flash into a separate tier to provide scale-out storage performance using that flash, Kumar said.
NEXT: Leveraging Existing Hardware While Boosting Storage Performance
Printer-friendly version
Email this CRN article