2016 Emerging Vendors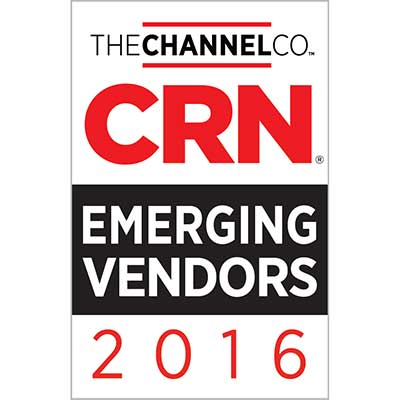 In the IT industry, shattering the status quo is the status quo. While big vendors generate their share of ground-breaking products, startups are a major driver of innovation and are changing the rules of the game.
Among the crop of young companies making this year's CRN Emerging Vendors list, these stand out for their groundbreaking technologies, comprehensive channel efforts and potential impact on the industry.
Big data and business analytics remains one of the most dynamic segments of the IT industry world for startups. Here are 10 you might not have heard of -- but should know about.
Software-defined networking, mobile communications and the Internet of Things are remaking the networking landscape. Here are 10 networking startups to keep an eye on.
The rapidly changing security space has more young companies than any other segment of the IT industry. Here are 10 security startups that caught our eye.
Cloud computing continues to transform the IT landscape. And it remains one of the hottest segments of the industry for startups. Here are 10 emerging cloud vendors that caught our eye.
Although some computing chores have been turned over to cloud systems, data centers remain the core of many IT operations. Here are six startups with intriguing data center technologies that caught our eye.
Storage startups are developing leading-edge technologies, from software-defined storage, to tools for managing storage in hybrid-cloud environments, to hyper-converged systems. Here's a look at 10 that caught our attention.
| | | | |
| --- | --- | --- | --- |
| Company | Headquarters | Founded | Technology Sector |
| 2nd Watch | Seattle, Washington | 2010 | Cloud |
| Alation | Redwood City, California | 2012 | Big Data/Business Intelligence |
| Apcera | San Francisco, California | 2012 | Cloud |
| AppFormix | San Jose, California | 2013 | Cloud |
| Archive360 | New York, New York | 2012 | Cloud |
| Arctic Wolf Networks | Sunnyvale, California | 2012 | Security |
| AtScale, Inc. | San Mateo, California | 2013 | Big Data/Business Intelligence |
| Attivo Networks | Fremont, California | 2011 | Security |
| Avi Networks | Santa Clara, California | 2012 | Data Center |
| Bastille | Atlanta, Georgia | 2014 | Security |
| BetterCloud | New York, New York | 2011 | Cloud |
| Big Switch Networks | Santa Clara, California | 2010 | Networking & VoIP |
| Catalogic Software | Woodcliff Lake, New Jersey | 2013 | Data Center |
| Cato Networks | Tel Aviv, Other | 2015 | Other |
| Cazena | Waltham, Massachusetts | 2014 | Big Data/Business Intelligence |
| CENTRI Technology | Seattle, Washington | 2010 | Security |
| ClearSky Data | Boston, Massachusetts | 2014 | Storage |
| ClearStory Data | Menlo Park, California | 2011 | Big Data/Business Intelligence |
| Cloud4Wi | San Francisco, California | 2013 | Mobility |
| CloudJumper | Garner, North Carolina | 2016 | Managed Services |
| CloudPhysics | Santa Clara, California | 2011 | Big Data/Business Intelligence |
| Cohesity | Santa Clara, California | 2013 | Storage |
| Confer | Southborough, Massachusetts | 2013 | Security |
| Confluent | Palo Alto, California | 2014 | Big Data/Business Intelligence |
| Console Inc. | Santa Clara, California | 2011 | Networking & VoIP |
| Continuum Managed Services | Boston, Massachusetts | 2011 | Managed Services |
| Contrast Security, Inc. | Palo Alto, California | 2013 | Security |
| CrowdStrike Inc. | Irvine, California | 2011 | Security |
| Cryptzone | waltham, Massachusetts | 2014 | Security |
| Cumulus Networks | Mountain View, California | 2010 | Networking & VoIP |
| Cybereason | Boston, Massachusetts | 2012 | Security |
| Cylance, Inc | Irvine, California | 2012 | Security |
| DataXoom | Berkeley, California | 2012 | Mobility |
| Datera | Sunnyvale, California | 2013 | Storage |
| DH2i | Fort Collins, Colorado | 2010 | Other |
| Dizzion | Denver, Colorado | 2011 | Managed Services |
| Dome9 | Menlo Park, California | 2011 | Security |
| Elastifile | San Jose, California | 2013 | Storage |
| ERPScan | Palo Alto, California | 2010 | Security |
| Green Cloud Technologies | Greenville, South Carolina | 2011 | Cloud |
| GuardiCore | San Francisco, California | 2013 | Security |
| HashiCorp | San Francisco, California | 2012 | Other |
| Hedvig | Santa Clara, California | 2012 | Storage |
| Hexis Cyber Solutions | Hanover, Maryland | 2013 | Security |
| Hortonworks | Santa Clara, California | 2011 | Big Data/Business Intelligence |
| HotLink Corporation | Santa Clara, California | 2010 | Cloud |
| Illumio | Sunnyvale, California | 2013 | Security |
| illusive networks | New York, New York | 2014 | Security |
| IndependenceIT | Allentown, Pennsylvania | 2012 | Other |
| INFINIDAT | Waltham, Massachusetts | 2011 | Storage |
| ioFABRIC Inc. | Toronto, Ontario | 2013 | Storage |
| IronScales | Givatayim, Other | 2013 | Security |
| KnowBe4 | Clearwater, Florida | 2010 | Security |
| Lastline, Inc. | Redwood City, California | 2011 | Security |
| LiveAction, Inc. | Palo Alto, California | 2010 | Networking & VoIP |
| Looker | Santa Cruz, California | 2012 | Big Data/Business Intelligence |
| Midokura | San Francisco, California | 2010 | Virtualization |
| My Digital Shield | Wilmington, Delaware | 2013 | Security |
| Netskope | Los Altos, California | 2012 | Security |
| Niara Inc | Sunnyvale, California | 2013 | Security |
| NopSec | Brooklyn, New York | 2011 | Security |
| OSNEXUS | Bellevue, Washington | 2010 | Storage |
| Palerra | Santa Clara, California | 2013 | Security |
| Passportal Inc. | Calgary, Alberta | 2011 | Managed Services |
| Paxata | Redwood City, California | 2012 | Big Data/Business Intelligence |
| PernixData | San Jose, California | 2012 | Storage |
| Phalanx Secure Solutions | Halethorpe, Maryland | 2011 | Security |
| Platfora | San Mateo, California | 2011 | Big Data/Business Intelligence |
| Platform9 | Sunnyvale, California | 2013 | Cloud |
| PLUMgrid | Santa Clara, CA, California | 2011 | Networking & VoIP |
| Pneuron Corp | New York, New York | 2010 | Big Data/Business Intelligence |
| Proficio | Carlsbad, California | 2010 | Security |
| Pulse Secure | San Jose, California | 2014 | Security |
| Purple | Manchester, Other | 2012 | Big Data/Business Intelligence |
| Qubole | Mountain View, California | 2011 | Big Data/Business Intelligence |
| Qumulo | Seattle, Washington | 2012 | Storage |
| Relay2, Inc. | Militas, California | 2011 | Networking & VoIP |
| ReSec Technologies | New York, New York | 2012 | Security |
| Rubrik, Inc. | Palo Alto, California | 2014 | Storage |
| SafeBreach | Sunnyvale, California | 2014 | Security |
| Saisei | Sunnyvale, California | 2013 | Networking & VoIP |
| SCADAfence | Be'er Sheva, Other | 2014 | Security |
| SECDO | New York, NY | 2014 | Security |
| Seceon | Westford, Massachusetts | 2015 | Security |
| Skyhigh Networks | Campbell, California | 2012 | Security |
| SkyKick | Seattle, Washington | 2011 | Cloud |
| Snowflake Computing | San Mateo, California | 2012 | Big Data/Business Intelligence |
| SoftNAS | Houston, Texas | 2012 | Storage |
| Soha Systems | Sunnyvale, California | 2013 | Networking & VoIP |
| Splice Machine | San Francisco, California | 2012 | Big Data/Business Intelligence |
| StorPool Storage | Sofia, Other | 2012 | Storage |
| SVA Software, Inc. | Fairview, North Carolina | 2016 | Storage |
| Talena | SAN JOSE, California | 2013 | Big Data/Business Intelligence |
| Talon | Mount Laurel, New Jersey | 2012 | Other |
| Tegile Systems | Newark, California | 2010 | Storage |
| Tempered Networks | Seattle, Washington | 2014 | Networking & VoIP |
| Teridion | San Francisco, California | 2013 | Cloud |
| ThousandEyes | San Francisco, California | 2010 | Networking & VoIP |
| ThreatQuotient | Reston, Virginia | 2013 | Security |
| TrapX Security | San Mateo, California | 2011 | Security |
| Trifacta | San Francisco, California | 2012 | Other |
| Trusted Metrics | Raleigh, North Carolina | 2011 | Security |
| vArmour | Mountain View, California | 2011 | Security |
| Vectra Networks | San Jose, California | 2011 | Security |
| Versa Networks | Santa Clara, California | 2012 | Networking & VoIP |
| Workato Inc. | Cupertino, California | 2013 | Other |
| ZeroStack, Inc. | Mountain View, California | 2014 | Cloud |
| Zoomdata | Reston, Virginia | 2012 | Big Data/Business Intelligence |